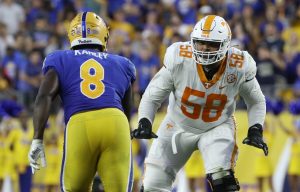 Despite the bemoaning of the Bengals faithful on social media after a quiet early free agency period, Cincinnati made a big splash for Orlando Brown, Jr. They lost Vonn Bell, Jessie Bates, Hayden Hurst, and Samaje Perine to free agency and retained Germaine Pratt to the surprise of many. Overall, the roster in Cincinnati is solid and doesn't have any massive holes to fill with the Bengals first round pick.
Realistically, the Bengals are set to select BPA at pick 28. Obviously, positional value is going to weigh in. There could be a top-10 player available but at a lesser positional value, so decisions will have to be made. Cincinnati has seven picks in this year's draft but there is a general feeling that they will select at least one offensive tackle, corner, tight end, running back, wide receiver, and interior defensive lineman. The order of those will be what decides whether or not they succeed at getting back to the Super Bowl.
Tackle Options for the Bengals First Round Pick in the 2023 NFL Draft
With the signing of Brown, it seemed like the Bengals offensive line was taken care of. Between Brown, Cordell Volson, Ted Karras, Alex Cappa, and Jonah Williams, the Bengals offensive line could be solid. Unfortunately, Williams, the former 11th-overall pick in the 2019 draft, has expressed a desire to be traded. He believes himself to be a left tackle in the league and rightfully so; he's played remarkably well despite giving up the most sacks in the NFL. The unfortunate thing for him was that of the 48 pressures he allowed – which are fewer than even Brown allowed last year – 12 turned into sacks.
Even if the Bengals do not grant him his wish, Cincinnati will need to find their next right tackle at some point in the draft. If you want a starting NFL tackle the first round will likely be the place (unless you're the Chiefs and manage to snag a stud like Creed Humphrey way later than he should have been drafted).
At 28, the Bengals will not be able to get Paris Johnson, Jr, Peter Skoronski, or Broderick Jones, the top three tackles in the draft. But there is a legit possibility at least one of the next three tackle prospects could be there.
Anton Harrison, Oklahoma
Anton Harrison is considered the fourth-best tackle prospect out of Oklahoma. He was the Sooners' left tackle and played quite well. In 34 games across three years, Harrison allowed just four sacks over 1,866 snaps. He is a fantastic athlete and has the profile to be able to flip to the right side.
At OU, Harrison was not asked to straight-up pass protect nearly as much as he likely would in Cincinnati. However, he is adept at gap schemes, RPOs, and quick game, all of which the Bengals love to employ. From the jump, Harrison would be able to battle with Williams or La'el Collins for the starting tackle job. However, there would be a learning curve from making the move.
Ever since the combine, my favorite fit for the #Bengals at 28 has been Anton Harrison.

That feeling hasn't changed, I would LOVE to have a high-ceiling, longterm RT on a rookie contract.

Love the idea of having Joe Burrow's offensive line secured ahead of his extension!

— Willie Lutz (@willie_lutz) March 18, 2023
However, if the Bengals don't feel like forcing a prospect to flip from the left to right, they could pick one of the two natural right tackles projected to be there at the end of the first.
Darnell Wright, Tennessee
Darnell Wright scouting report
Out of Tennessee, Darnell Wright is an interesting case to be sure and plenty of mock drafts out there have the Bengals first round pick already wearing orange. He shined bright on a surprising Volunteer team this past year and could be a day one starter in the NFL. The Bengals would love that he can handle speed and power. Considering they face Myles Garrett and T.J. Watt twice each, anyone who is competent in handling elite edge rushers would be ideal.
His size and athleticism make him a perfect match for what the Bengals want to do on offense. He tested incredibly well at the NFL Combine and he paired that with elite play in the SEC last year. If the Bengals want to know how Wright will respond to top edge-rushing talent, they need look no further than what he did against future top pick, Will Anderson, Jr. He held the Alabama star to just one pressure and half of a tackle for loss last year.
Alabama edge rusher Will Anderson, a likely top-five pick, says that Tennessee's Darnell Wright is the best OT he faced in college. Anderson mentioned how much better Wright got year-to-year. Pointed to his ability to mirror rushers and anchor at his size.

— Evan Lazar (@ezlazar) March 1, 2023
Finally, perhaps the Bengals want serious size.
Dawand Jones, Ohio State
"Big Thanos" himself, Dawand Jones anchored the right side of the offensive line at Ohio State. In two years as a starter, Jones allowed just three sacks…and all of them came against Aidan Hutchinson in 2021. Aside from that one game, Jones has been as good as any tackle in the nation.
Jones is a massive human at 6'8″ and 359 pounds. And yet, he moves better than someone his size should. Additionally, he set the NFL Combine record for largest wingspan (87 7/8″). There was even a time when he tried to play basketball for the Buckeyes in addition to football.
Jones is the least likely of the bunch due to the fact that he did not test at the combine nor Ohio State's Pro Day, so there is no accurate RAS. While the Bengals have not shied away from using premium picks on an offensive lineman who did not test, they have been burnt by said players.
An appropriate time to repost my comparison for Dawand Jones. pic.twitter.com/BFeY3sPZjG

— Ross McCorkle (@Ross_McCorkle) March 16, 2023
Regardless, Jones' tape shows that he's a much better athlete than his profile and size would suggest. If the Bengals want to get bigger — or MUCH bigger — on the offensive line, Jones will be the pick. He has the smashmouth mentality fit for an NFL star lineman. The Bengals first round pick would be considered a home run with any offensive tackle but by taking Jones, they'd show that they are not messing around and are prioritizing protecting Joe Burrow.
Main Image: Charles LeClaire-USA TODAY Sports
The post Offensive Tackle Options for the Cincinnati Bengals First Round Pick appeared first on Last Word on Pro Football.