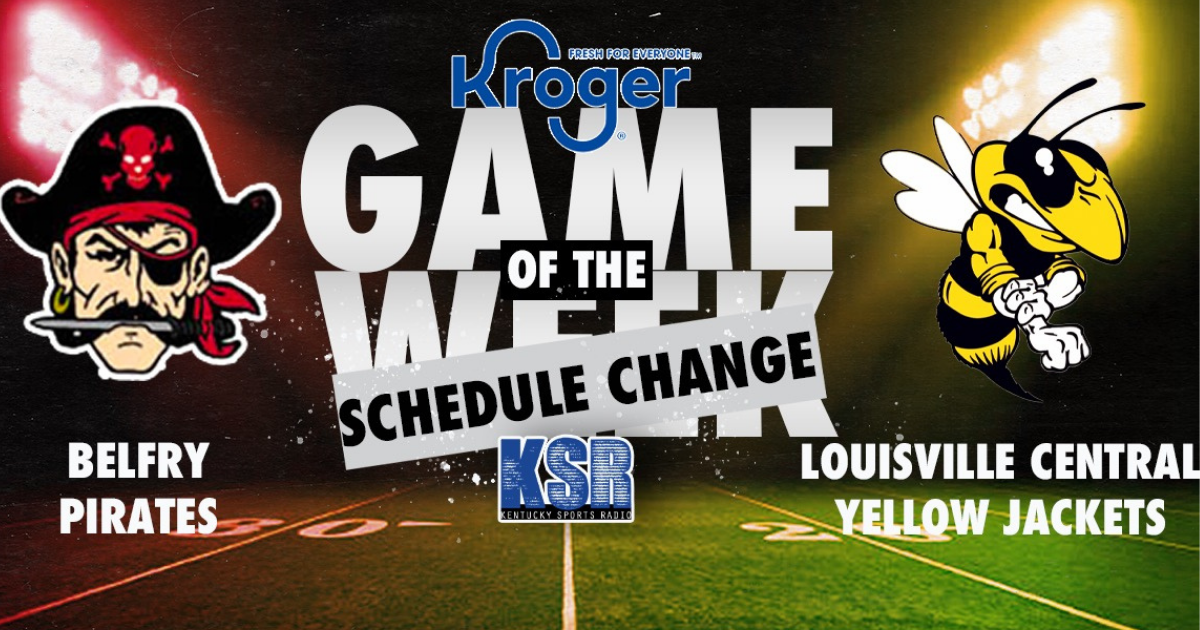 We're pulling audible.
Due to COVID-19 protocols, the original Kroger KSR Game of the Week featuring Shawnee at Jackson County has been canceled. The two will attempt to reschedule their game at a later date.
With that being said, KSR is headed back to Louisville for the second week in a row, this time for Belfry (0-3) vs. No. 19 Central (1-2).
Central to Honor Ty Scroggins
Former Central coach Ty Scroggins died in February after being diagnosed with COVID-19. He tested positive for the virus on January 14 and was hospitalized shortly afterward due to low oxygen levels. Scroggins was 49 years old.
Scroggins spent the last four seasons as an assistant coach at DeSales High School. Prior to that, he was the head coach at Central, where he led the Yellowjackets to five state championships (2007, 2008, 2010, 2011 and 2012), amassing a 101-43 record over 10 seasons.
Central will honor his legacy this Friday against Belfry by naming their athletic complex after the late coach. From now on, it will be dubbed the Tyrran Scroggins Athletic Complex.
The dedication is set for 7 p.m. this Friday, 30 minutes prior to kickoff.
Impact on Central Community
"Very sad to hear of the passing of Ty Scroggins," Louisville Mayor Greg Fischer tweeted. "He helped countless young people in our community as a coach, teacher and mentor. Let's keep his family, and the many young people he inspired, in our thoughts." 
Scroggins was a 1990 graduate of Fairdale High School before committing to the University of Louisville to play football. His alma mater has been honoring him since week one:
"He loved his time as the head coach of the Yellow Jackets football program," Sheri Duff, Scroggins' fiancee said after it was announced the complex would be named after him. "I can't think of a better way to recognize Ty's passion and dedication to his players, his students and the school."
Belfry vs. Central Preview
The Pirates' season isn't expected to get any easier this Friday as they make the long trip to take on Central, who's coming off their first victory of the season where they shut out Butler 34-0.
Yellowjacket freshman Cortez Stone continued his stellar season last week, leading his team with two touchdowns on 150 yards rushing. He's slowly turning into their No. 1 running back after starting out as a kick returner and wide receiver. Expect him to be a gadget player for Central this season.
Belfry has been outscored 97-26 in their first two games of 2021 and saw their game against No. 4 LCA canceled due to COVID-19 protocol last week.
The Pirates have passed the ball seven times all season, focusing on their rushing attack, where 419 of their 472 total yards have come.
History
These two rivals have met six times in the 3A state championship game, all coming in the last two decades (2007, 2010, 2011, 2012, 2014, 2016). Central leads the state title series 4-2 — Belfry has won the last two. Coach Scroggins was the coach at Central for all six matchups.
Central has since moved to 4A while the Pirates have maintained their status as a 3A powerhouse. The Yellowjackets haven't been back to the state championship game since their 51-32 loss to Belfry five seasons ago. The Pirates have made the trip to Kroger Field once since then, doing battle with Bell County in 2019 where they won the state championship 30-20.
A Message from Kroger:
We're excited to tell you about something new from our friends at Kroger. Did you know Kroger is America's largest grocery chain that started over 135 years ago? They are doing something they've never done before: bringing fresh groceries right to you with a new service called Hometown Pickup. That's right, for those of you in Cynthiana, Midway, Eminence, Bedford, McKee, Dry Ridge, Carlisle, Eubank, Georgetown, Mt. Vernon, Jackson, Frenchburg, Irvine, Mt. Olivet, and Paris, Kentucky you can now order all your groceries online and pick them up at a central location in your hometown. No more long drives into the city to get fresh food for you and your family. Now THAT is truly Fresh for Everyone. Thanks, Kroger. Learn more and place your first order at Kroger.com/hometown.
The post Central vs. Belfry: Kroger KSR Game of the Week appeared first on On3.