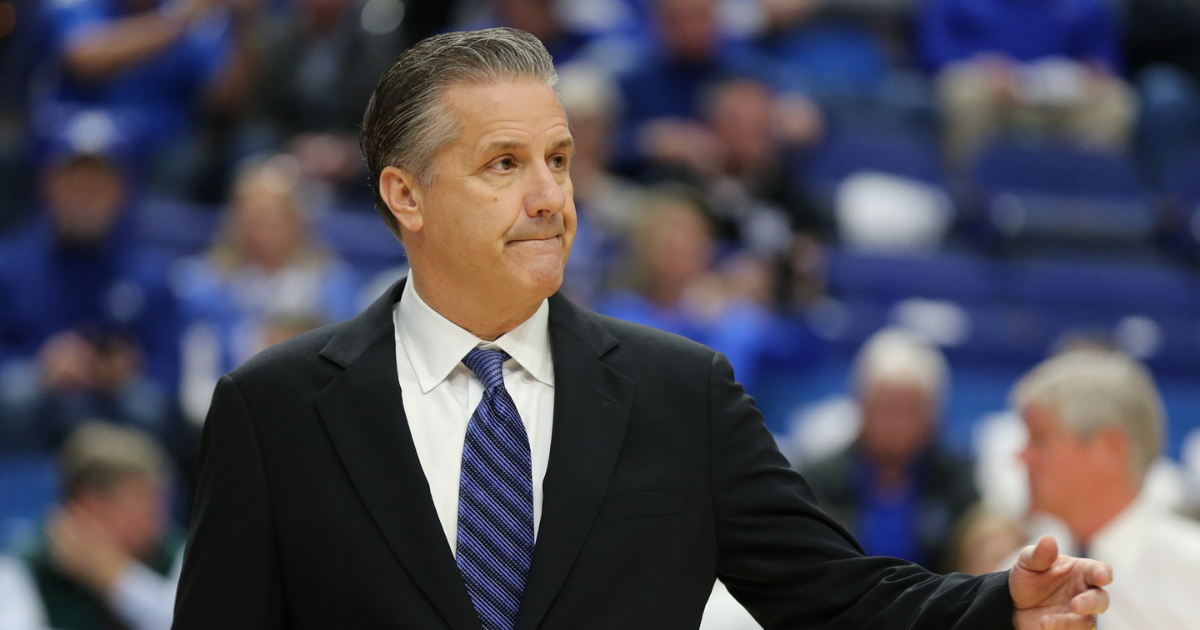 John Calipari has not one, but two honors coming up. On Friday, UMass will unveil statues of Calipari, Marcus Camby, Julius Erving, and Jack Leaman. On Sept. 21, Calipari's alma mater Clarion will rename the court in Tippin Gymnasium the John V. Calipari Court. It will be known as "Coach Cal Court." Calipari, a 1982 graduate, will attend the unveiling in Pennsylvania. 
"That's neat," Calipari said of the honor during an appearance on KSR. "You last this long in this profession and stuff like that happens. I can't wait to see my college teammates and have them bust me, saying, 'I was a better player than you. Why are they naming this court after you? You couldn't make that.' Well, I could. They're full of crap. I was the best player on the team."
Calipari started his college basketball career at UNC Wilmington, but transferred to Clarion in 1981, helping the Golden Eagles reach their first NCAA Division II Tournament in program history that year. Under legendary head coach Joe DeGregorio, Clarion went 23-6 and reached the East Region championship game. Calipari was a key member of Clarion's 1981-82 team that started the season 7-0 and ranked third in Division II at one point. His coach at Moon High School, Joe Sacco, also graduated from Clarion (1966) and will be in attendance as well.
"Let's have some fun and enjoy this and tease each other, smack each other around and have a few beers and laugh. Our coach will be up there, my high school coach who graduated from the same school. We'll talk. Both of my coaches will be there. It'll be fun."
The ceremony is invitation-only but will be broadcast live on the PSAC Sports Digital Network app.
UMass statue unveiling scheduled for Friday
This weekend, Calipari will be in Amherst, Ma. for UMass' Hall of Fame Weekend. As mentioned, the Minutemen will unveil the statue of Calipari, Marcus Camby, Julius Erving, and Jack Leaman outside of the Mullins Center. Calipari's 1995-96 Minutemen team, including Bruiser Flint and John Robic, will be inducted into the UMass Athletics George "Trigger" Burke Hall of Fame on Saturday. Calipari said yesterday he's looking forward to the weekend's festivities.
"To be there with Julius (Erving), with a coach that I respect like I respect Coach Hall, Jack Leaman, and then Marcus Camby, who I've told over and over again that what you've done for me and my family, I could never repay. And he always follows it, 'Coach, what you did for me, and I love you.' I mean, to be there with that is kind of unique and special. 
"They're also putting that '96 team collectively in the (UMass) Hall of Fame that night, which I think is– to see all the guys, they're all coming back. I just called Mike Williams. Mike Williams wasn't on that team, but he knew all the players because he was on teams prior to that. I invited his sons, so we'll be able to see his two sons and a lot of old friends. So, it should be fine."
Being immortalized in bronze is a pretty big thing; however, one member of Calipari's family is not impressed.
"I tried to get Ellen to come. She says, I see you enough. I'm not looking at you in a statue. So, she's not going to go, I don't think."
The post Clarion naming basketball court after John Calipari appeared first on On3.