Isaiah Epps' career was nearly derailed by injuries. After spending most of the last two seasons on the sideline, the fleet-footed wide receiver emerged in the 2021 UK season-opener by making the biggest play of his career.
"I'm very happy for Isaiah," Mark Stoops said earlier this week. "Just the fact that he has persevered through some really tough times and really worked hard, a lot of rehab and I'm sure for him some frustration along the way."
Isaiah Epps Injuries Pile Up
Epps' 2019 season ended before it ever began. During preseason practice he suffered a broken foot that required surgery. The foot never fully healed, forcing doctors to perform a second procedure. After the second setback, Epps feared his career was in jeopardy.
"Whenever I had to have a second (foot) operation, it kind of got a little weary," Epps said. "But just put all my trust in God and believed in his plan. There's not much I could do on my end. Just make sure I'm taking care of everything I can in the training room and let everything work out for itself. I just had to stay the course, really."
That was not the only injury Epps had to overcome. In the 2020 season opener he injured his thumb, sidelining him for three more games. The wide receiver could not catch a break.
Removing a Mental Block
Isaiah Epps has always been billed as an explosive big-play threat with top-end speed. Sidelined for such an extended period of time, his expectations were unknown ahead of the 2021 season, even by his offensive coordinator.
"He was very limited in terms of like one practice on, one practice off, a period on, a period off. So I really didn't get a lot to see of him (in the spring)," said Liam Coen.
Eventually, enough was enough. Epps kicked off the rust and went full speed ahead.
"I don't have much time," said the redshirt senior. "There's no time to waste. I kinda had to just get over some of those fears, make sure I stay in the training room and just do everything on my end so thats way I can play with brothers out there on Saturday."
Once he finally made it to a Saturday with a clean bill of health, Epps brought fans to their feet at Kroger Field.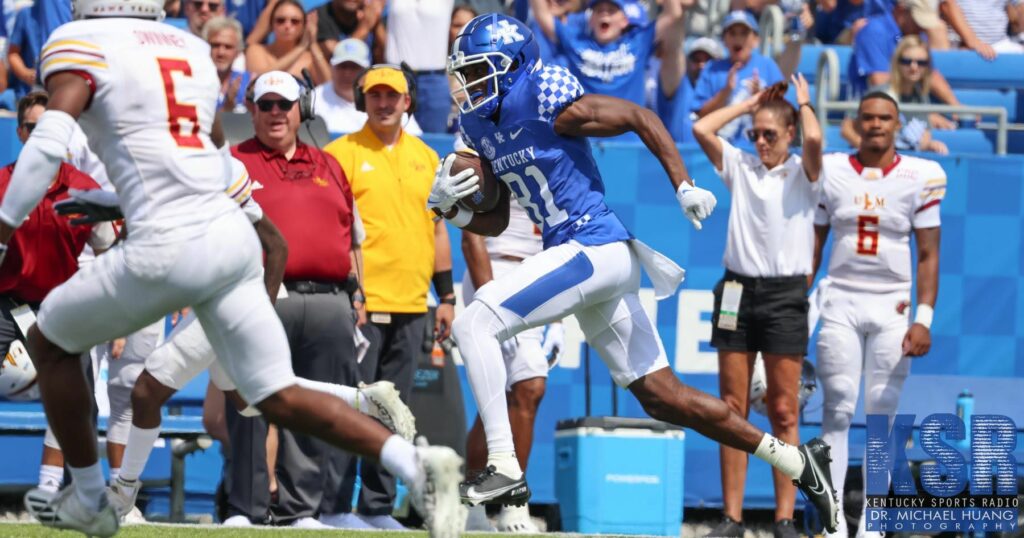 Big Play Breakthrough
Despite a couple of big plays in the first 30 minutes, the UK offense was stagnant to start the second half. Following a quick three-and-out, Kentucky faced another third and long. Epps' number was called and he delivered, catching a 57-yard pass from Levis, the longest reception of his career and the quarterback's most impressive throw of the day.
"It felt good. It's been a long time coming," Epps said. "I've been open on some deep balls in the past and stuff, but just being unable to connect. Will's trust in me, the accuracy, it felt good to finally connect and make a big play."
Offensive Impact
Entering the season everyone knew Will Levis could rely on Wan'Dale Robinson and Josh Ali. One big question remained, who will be the third guy? Epps may have answered that question on Saturday.
"It was great to see 81 play well," said wide receivers coach Scott Woodward. "After thew game I texted him on the side and said, 'Hey man. Anyone that plays for me and gives that amount of effort and makes plays like that, I'm behind them 100%.' He played lights out for me."
Woodward added: "He's just another guy in the room we can count on. The effort was tremendous. He made a couple of big-time plays, made a couple conversions for us that were big and gave us more confidence in the kid. It was great to see."
Kentucky has been searching for a big-play wide receiver to stretch out opposing defenses for years. Epps can provide the top-end speed to completely unlock the offense's potential.
The post Isaiah Epps Breaks Free from Injury Bug to Make Big Plays for UK appeared first on On3.