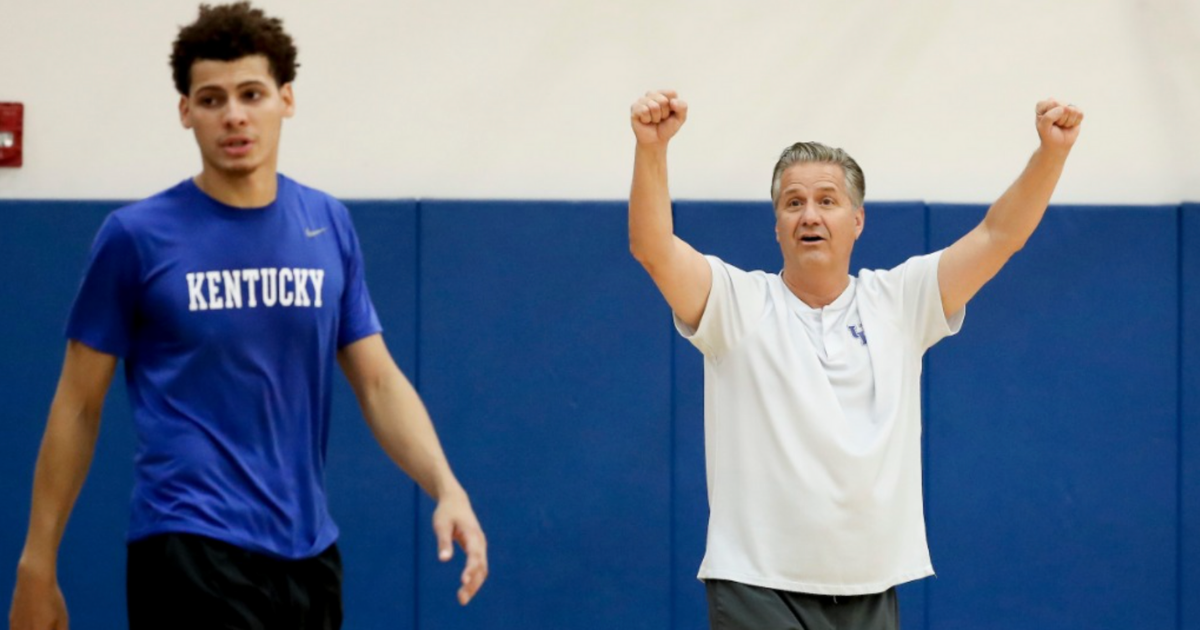 There's no where left to go but up for Kentucky.
Well, the 'Cats could win just eight games this season, but that's a conversation nobody wants to have. All signs are pointing to a return of Kentucky Men's Basketball near the top of the nation's best after the program's worst season in nearly 100 years. The man engineering it all, head coach John Calipari, is stoking the optimistic fire.
Calipari met with the media on Tuesday morning to bring everyone up to date on the happenings of the team over the summer. When asked about what he's done the last few months to maybe change his approach to coaching, Cal said the only thing that's changed for him is leaving everything that wrong in 2019-20 rearview mirror.
"That year was awful for a bunch of coaches but it was awful for everybody," Calipari said on Tuesday. "My thing is I'm moving on. I'm excited about coaching. That's going to be a blip in the screen. It was painful for every one of us to go through. Every one of us. And I'm not just talking coaches, everybody. Every student. It was painful and at this point I'm not looking back. I don't have the rearview mirror."
Expectations heading into the 2021-22 season are going to be higher than ever with John Calipari at head coach, but to a different degree. This squad isn't exactly viewed as a preseason national title contender. That being said, anything short of a Sweet 16 appearance in March would be a disappointment.
Putting the effects of COVID-19 aside, the Kentucky Basketball program was dealt an unfortunate hand all of last season. The returning sense of normalcy has the coaches, players, and fans on edge for that first Big Blue Madness walkup song.
But this year's roster should simply be more curated toward modern basketball with shooting galore, athletes at all five positions, and a roster that can go 10-plus deep. There could as many as four capable point guards. The recruiting momentum is coming back with vengeance. Calipari has been an advocate for Name, Image, and Likeness rules for ages, which his team has already begun to take advantage of.
"I'm looking forward and all I would say to everybody is I'm jacked about where we are, where we're going, how the recruiting is going, all that," Calipari added, "I'm like let's go let's get this started. Great group of young people. How about, they come together and say well we're going to do name, image, and likness but we're going to give 10 percent back to charity. Who does that when you're 18 and 19? That means we've got some good senior leadership."
That's another thing Calipari is looking forward to: veteran leadership. With seven juniors and two graduate students, this season's Kentucky team won't look much like the last 10, but sometimes a tweak is necessary to bounce back.
The post John Calipari "not looking back" after down season in 2020-21 appeared first on On3.