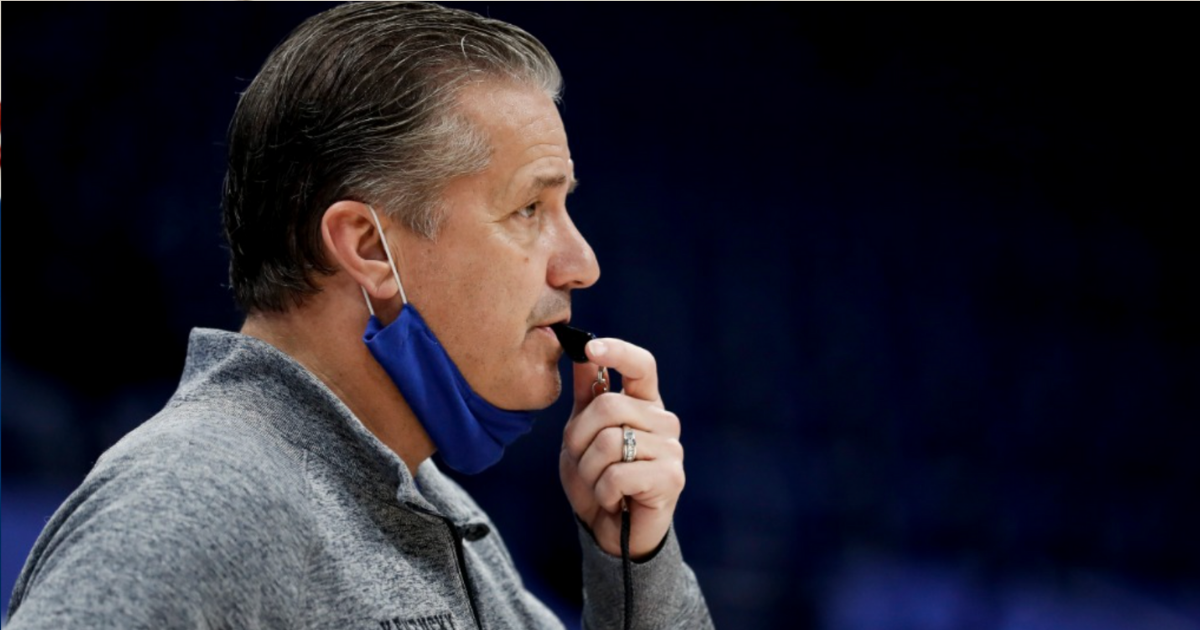 Recently introduced name, image, and likeness (NIL) legislations are still in the incredibly early stages. Only a few months into this ground-breaking change in college athletics, everyone is simply trying to understand what they can and can not do.
The Kentucky Wildcats Men's Basketball Team, pioneered by head coach John Calipari, is undergoing that process right now–digesting the new rules and figuring out the most beneficial way to incorporate them. Both team and individual NIL deals have already been signed with plenty more on the way.
But the only reason NIL is even a thing in the state of Kentucky is thanks to governor Andy Beshear. He signed an executive order in late June that allowed all universities within the state to permit their student-athletes to participate in NIL opportunities.
That order won't last forever though and Calipari is trying to get ahead of incorporating a state NIL law, mainly because he is not optimistic about a federal law being implemented for three to four more years. But he has ideas that will hopefully benefit the student-athlete if a state law is put in place.
"We need a state law but it needs to be nimble and flexible," Calipari told the media on Tuesday. "It can not be restrictive. We don't know where this is all going. A year from now there may be a lot of changes. And let me say why a state law is important. I've been wrong before, when was it, Eric (Lindsey)? I think it was 1978, Larry (Vaught), '78. I don't feel there's going to be a federal law for three or four years.
"I've been wrong before but let me tell you why. Unless there is chaos, unless there is something that makes them (the NCAA) act, they're not acting. Now we can all talk and have meetings and this guy saying the right thing–they're not going to act unless there's chaos or something happens. I don't see that going. So we need a state law."
Kentucky was the first state to allow NIL through executive order, while most have passed legislation by signing a bill. There are still several states without any NIL laws in place at all. Had Kentucky not made a move of its own, it would have been left in the dust and at a major competitive disadvantage.
"The executive order was huge for us. Don't let anyone tell you it didn't matter," Calipari added. "It was huge for us. Every other program in the SEC had a state law, except us, we had nothing. What if they restricted everything? So we needed an executive order and thanks to our governor we got one."
NIL is clearly an important topic to Calipari, considering he's been at the forefront of paying players for years now, but it's not the end-all, be-all for the program. He doesn't believe that NIL will influence a kid to pick the 'Cats, but if UK doesn't execute its plan properly, NIL could be the reason that same kid chooses another school.
"Players are not going to come here because of name, image, and likeness. They're not," Calipari said. "They're going to come here because in between the white lines, this culture, and the brand that we've built in basketball, the nationalness, all that goes along with it, the teaching, what happens.
"How about this, the result of coming here, that's why they'll come here. Not name, image, and likeness. But let me say this to you, Kyle (Tucker), it is a reason they'll go somewhere else if you're not doing it right, and they will do it. Every player that we brought on this campus, and we're talking about recruiting, they wanted to know, their families especially, what are you doing with name, image, and likeness? How are you trying to help and how are you trying to protect? "
At this stage in the learning process of NIL, Calipari wants to make sure his student-athletes are business savvy. That they know how to evaluate an offer and negotiate on terms. He suggested that Kentucky's business school offer classes specifically for student-athletes trying to learn more about NIL opportunities.
"How about, make sure these kids know everything is open-ended and there's a timeframe," Calipari continued. "In other words, if you want to do something with a shirt company, do it with five shirt companies. Don't be locked into one, don't be locked into a time frame. Educate.
"I want you all to hear this: it's no inducement if they're already on your campus. That's not inducement. They're already here. What we do with them now that they're on campus to educate and protect, they need to have someone look at a contract to tell them what they're signing. Not that I saw it, it's okay, go."
Calipari has no intention of falling behind on this front, either. The university as a whole has been active in its education of NIL to student-athletes across all campus sports. He wants to be versatile with his approach, but at the same time, he doesn't want to be the last to jump on board.
"I would rather fail fast than be in the caboose," Calipari said. "We don't know what's going on but let's not be in the caboose now. We're gonna fail some, we're gonna have to change, there's going to be things we try that aren't going to work. But there's going to be things going on six months from now that we all say well that's something great, that helps the kids, that helps the programs. We don't want to be too locked in."
Kentucky, and the Men's Basketball team, in particular, is going to be one of the biggest winners when it comes to NIL. Adapting to the change isn't a matter of when, but how–and how will it affect the program?
"I can't tell you how it's going to affect volleyball or the rifle team or track," Calipari added. "I can tell you how it can affect men's basketball and here it's kinda important that we get that right and I know that we will."
When you're self-defined as the gold standard, getting it right is the only option. Kentucky and Coach Calipari are on the right path so far.
The post John Calipari says Kentucky needs state law concerning name, image, and likeness appeared first on On3.