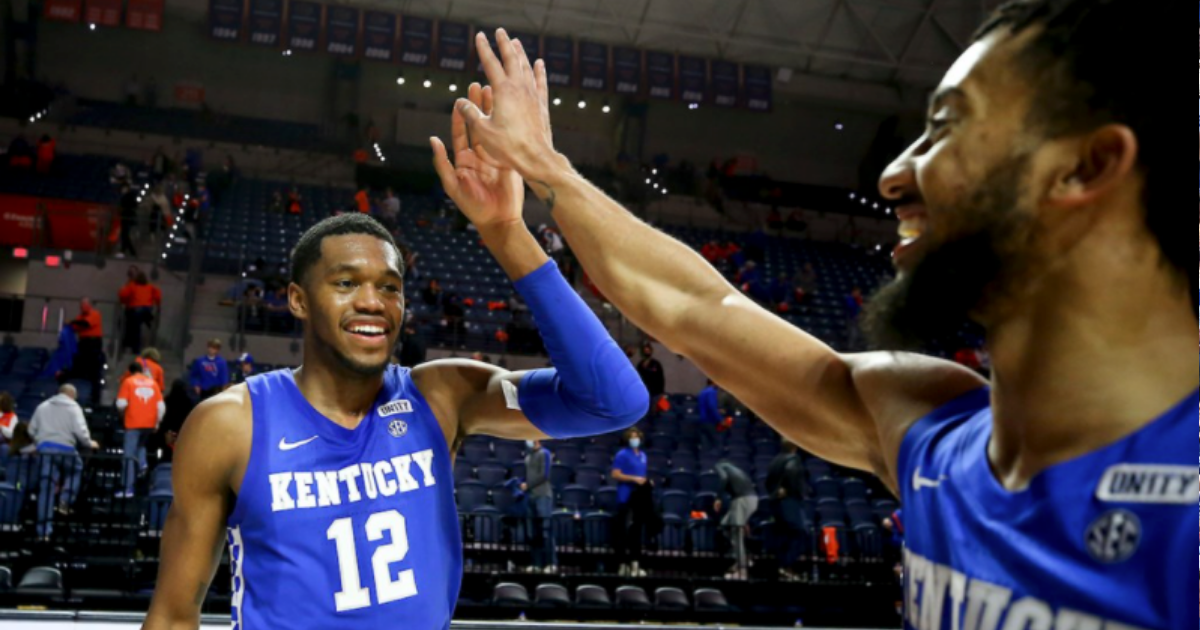 Keion Brooks Jr. is the only member of the Kentucky Men's Basketball roster who has experienced the taste of true success in a Wildcat uniform.
Coming off the pine as a freshman in 2019-20, the Fort Wayne, IN, native was just a piece of a Kentucky team that had high hopes heading into the postseason. Immanuel Quickley, Nick Richards, Ashton Hagans, and Tyrese Maxey–all future NBA players–formed a steady combination on both ends of the floor for head coach John Calipari.
Brooks Jr. was key in his bench role, even starting a string of five consecutive games in which the 'Cats went 4-1, including a victory over Louisville. The 6-foot-7 forward averaged just 15.1 minutes in his 31 appearances, aiding Kentucky to a 25-6 record (15-3 in the SEC) and a No. 8 ranking in the AP Poll.
Unfortunately, as we all know, the COVID-19 pandemic ruined any chance of a magical run to the Final Four. It couldn't have come at a worse time, either. Kentucky had won 13 of its previous 15 games heading into what would have been the 2020 SEC Tournament. It was actually Brooks Jr. who was the hero in what would be the season finale on the road against Florida. The rookie bullied his way to the rim for two field goals in the final 60 seconds that would eventually put UK ahead for good.
Since then, just a mere week before COVID-19 would shut down the NBA and soon the entire sports world, Brooks Jr. and Kentucky have yet to experience anything close to that level of success.
But he's in a position to lead Kentucky back to the top. Now a junior, Brooks Jr. is eager to get back on the court and play in front of the Rupp Arena crowd, but he's even more excited to fill the role that players such as Richards and then-senior Nate Sestina brought to the 2019-20 group.
He almost feels responsibility as a veteran to embrace the path in front of him.
"I'm more looking forward to the journey of it all," Brooks Jr. recently told KSR. "Dealing with the NIL, dealing with fans coming back around. You don't want to be too worried about the destination and not enjoy the journey of what we're doing, so that's what I'm looking forward to."
Brooks Jr. will assuredly play a much bigger role this season than he did as a freshman. Despite some injury issues early on as a sophomore, he showed glimpses of the consistent talent he can be, averaging 10.3 points and 6.8 rebounds in over 23 minutes per outing off the bench.
There is a high possibility that he starts in year three–he already knows what it takes to win at Kentucky.
That being said, he also knows what it takes to play at Kentucky, along with understanding the nerves and pressures that can and will come with it. With seven newcomers on the roster (three freshman and four transfers), Brooks Jr. is realistically the only player on the team who can teach from live experience. Even the returning players (including Dontaie Allen, who was sidelined with an injury in 2019-20) don't know what winning at Kentucky feels like.
"Me being in a leadership position, leadership role, I'm looking forward to helping my teammates out, helping the freshman, helping the new guys that transferred in to know what it's really like to be here and what it takes to win," Brooks Jr. added. "I had a taste of that my freshman year with the older guys pulling me along and showing me the way and I think it's only right that I do the same thing when it's my turn."
One of the players he won't have to help out in that regard is graduate student Davion Mintz, who is about to enter his second season in Lexington and fifth as a college basketball player. The 6-foot-3 shooting guard elected to return to Kentucky instead of taking the professional route. He was arguably the Wildcats' best player in 2020-21.
Mintz doesn't need to be pulled along by Brooks Jr.–he'll be doing some of the pulling himself with all of these new faces. Like everyone else who played last season, Mintz does not want to go back to the days of a nine-win campaign.
His early impressions of the new-look Wildcats indicate that won't be the case.
"Kentucky fans should be exciting because it's a lot of guys out there who are experienced," Mintz recently told KSR. "A lot of different approaches to the game, guys that can really shoot it from the perimeter. There's a lot of different threats out there and guys have gotten better that was here last year. We simply have returners that have improved and also saw how elite they have to be–or we have to be in order to win games because we saw how terrible it can get."
And terrible it was. What it came down to was Kentucky not having the talent that was initially expected. This team will undoubtedly be more skilled from top to bottom than a season ago. Considering half of the roster knows what it feels like to hit that low point, possessing the will to win shouldn't be an issue, either.
"Just fighting back with that hunger," Mintz said about what Kentucky will bring to the table. "You should be excited because we especially don't want to go back to where we were so it's going to be a lot of fun. A lot of guys coming in with talent for sure. It'll be fun."
Heading into the 2021-22 season, Kentucky will likely be a top 10 team in the country. Multiple media outlets have already tabbed the 'Cats to their preseason top 10 rankings as we approach roughly one month out from Big Blue Madness. Expectations will be just as high as they were going into last season and every single season before that.
But the team's most prominent voices are ready for the challenge.
The post Keion Brooks Jr. and Davion Mintz are hungry to win in 2021-22 appeared first on On3.