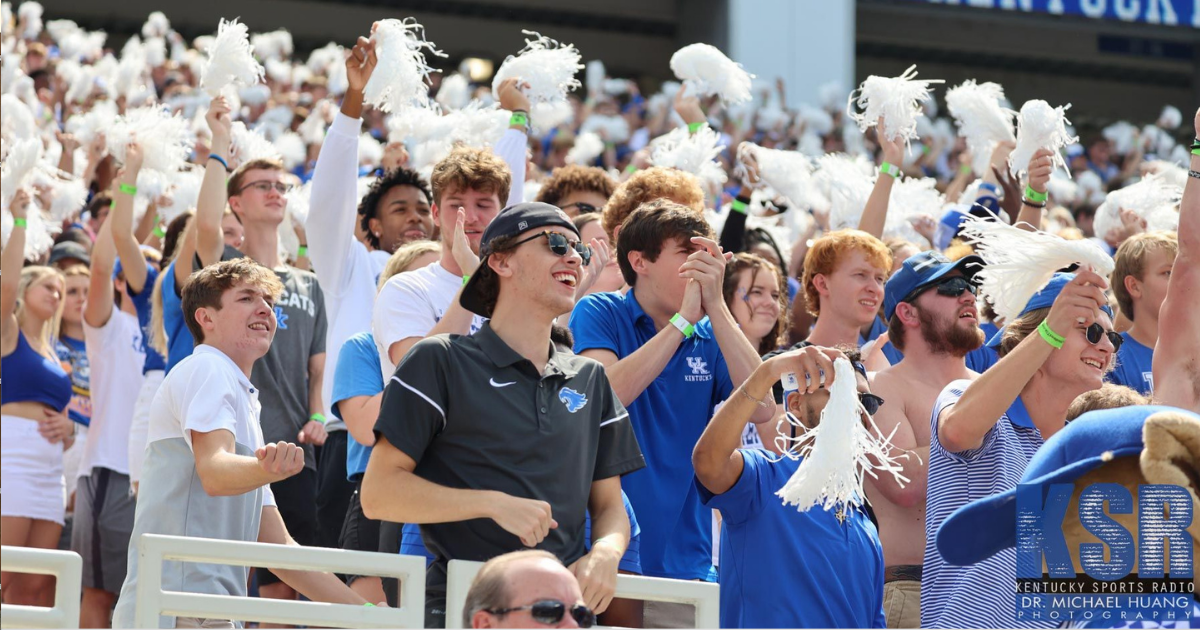 Saturday's game was a breath of fresh air for the Kentucky Football fanbase.
The Wildcats strolled to a 45-10 drumming of Lousiana-Monroe in the 2021 season-opener at Kroger Field, unveiling a new offense that's heavy on the passing game behind quarterback Will Levis. Kentucky was tossing the ball around the field with ease, throwing for 400-plus for the first time since 2014. The defense was electric, too, holding ULM to under 100 total yards and getting after the Warhawk offense every single play.
Kentucky fans would likely give the 'Cats an "A" rating (or a B+ at worse) after one game, but what about the advanced stats? What did those numbers have to say about UK's individual performances? If you ask Pro Football Focus, they would say several Kentucky players graded out quite well, particularly Levis.
The former Penn State transfer turned QB1 in Lexington graded out as the third-best Week 1 Power Five quarterback with a 92.0 rating. If we include every Divison I quarterback who played on Saturday, Levis still comes in with the fifth-best grade. His 55 snaps were the second-fewest among the top five, too.
Anything over a PFF grade of 80 is considered a standout performance while anything in the 70s is considered above average. Going over a grade of 90 is reserved for elite-level performances.
Levis' throwing ability was the biggest highlight from Saturday, but Wildcats of all positions were making big plays.
PFF graded out wide receivers Wan'Dale Robinson and Josh Ali as the 17th and 36th best Divison I pass-catchers from Week 1, respectively, with respective ratings of 81.1 and 78.2.
The Big Blue Wall was no slouch, either. Preseason All-American Darian Kinnard graded out at 85.4 on 55 snaps while LSU transfer Dare Rosenthal graded out at 72.5 on the same number of plays. Center Quintin Wilson finished with a grade of 72.8 on 13 snaps. Offensive tackle Jeremey Flax received a respectable grading of 69.1.
The biggest surprise came from tight end Jordan Dingle, who earned an 89.3 grade from PFF on 11 snaps thanks to a tightly-covered 31-yard reception from backup QB Beau Allen. Starting running back Chris Rodriguez finished with a grade of 69.4 on 39 snaps.
On the defensive side of the ball, the top grades weren't nearly as high as the offense, but there was overall consistency across the board. Linebacker Jared Casey received the highest grade at 81.4 on nine snaps while Josh Paschal came in behind him at 78.4 on 49 snaps.
Linebacker Jordan Wright (76.2 on 34 plays), defensive lineman Isaiah Gibson (75.8 on three plays), defensive lineman Octavious Oxendine (75.3 on 23 plays), and defensive lineman Josiah Hayes (75.2 on 17 snaps) all graded out higher than 75.0. Five more Wildcats finished with a grade of 70 or better on defense.
The post Kentucky Football did quite well in PFF's Week 1 grades appeared first on On3.