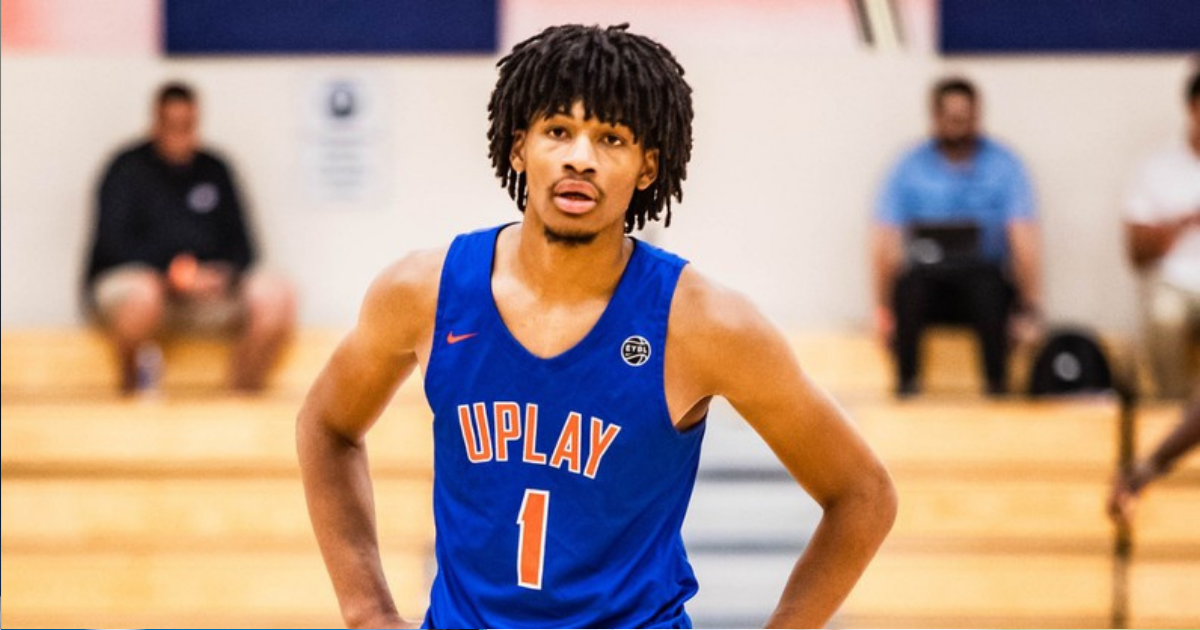 We are less than 24 hours away from Shaedon Sharpe's final decision, with the five-star guard set to choose between Kentucky, Oklahoma State, Arizona, Kansas, and the G-League Ignite on Tuesday.
The 6-foot-5, 185-pound senior guard is currently ranked No. 1 overall by On3, Rivals, ESPN and HoopSeen, making his commitment a clear game-changer for the lucky program to land his services. Averaging 22.6 points (48% FG, 36.4% 3PT), 5.8 rebounds and 2.7 assists per contest in 12 games at Peach Jam this summer, Sharpe led the prestigious event in scoring and finished in the top five in 3-pointers made. He scored 20 or more points eight times, 25 or more six times and 30 or more points twice.
With the ability to make shots at all three levels and from any of the three perimeter positions, Sharpe is widely seen as the best pure scorer in the class of 2022. And Tuesday, he will come off the board and serve as the foundational piece for one of five final options.
Who will strike gold? Let's break down the options.
Recruitment
Of the final options, Kansas offered first on Dec. 14, 2020, followed by Kentucky three days later on Dec. 17. Arizona came in on June 1, 2021, followed by Oklahoma State on June 26. The G League then came in with an offer of its own on Aug. 23.
Kentucky received Sharpe's first official visit on June 18, 2021, followed by an unofficial to Arizona on June 23. After cutting his list to five on Aug. 8, the five-star guard took an official to Arizona on Aug. 27. Kentucky then received his final visit last week, making the trip to Lexington with his parents starting Aug. 30.
Sharpe scheduled a commitment date on Sept. 1 before meeting virtually with G League officials on Sept. 2.
Quotes
"All the players that went through (Kentucky), through their program, they made it to the league," Sharpe told KSR back in April. "I feel like if I go there I could do the same thing."
"(The school I hear from the most is) probably Kentucky," he added. "I hear a lot from Kentucky."
The five-star guard compares his game to NBA superstar Bradley Beal, one of the league's top scorers in his own right. Like Beal, Sharpe is confident he can help his team win in a number of ways.
"I really just do whatever the team needs," Sharpe told KSR. "If they need a quick three, I give them the three. If they need a bucket in the paint I will give them that too. It's whatever the team needs."
Predictions
There are currently eight Crystal Ball picks in for Sharpe over at 247Sports, all in favor of Kentucky. There are also seven FutureCasts in favor of the Wildcats over at Rivals, giving the program 15 total predictions across the two outlets.
KSR has stressed Kentucky's strong position with the standout guard throughout the spring and summer, putting Sharpe on commitment watch back in July.
"Looking for UK's next commitment? Shaedon Sharpe may be your guy. … Sharpe fell in love with Kentucky's pitch during his (first) official visit in June and momentum has only continued in the Wildcats' favor since then to the point where the dynamic guard is now officially on commitment watch."
Prior to the five-star guard's leap to No. 1 in the rankings, those inside the Kentucky program felt Sharpe was clearly the best guard prospect in the class and likely the best player overall. The staff first offered Sharpe when he was a fringe top-100 prospect.
"Shaedon Sharpe is not only a foundational piece of Kentucky's recruiting class, but the anchor of what is setting up to be yet another top-rated group under John Calipari," KSR previously reported. "Luckily for the program, UK is the overwhelming favorite going into the home stretch of Sharpe's recruitment."
Highlights
---
Will Kentucky be adding a commitment from the No. 1 player in high school basketball? We'll find out Tuesday night at 7 p.m. ET.
The post Kentucky in driver's seat leading up to Shaedon Sharpe's commitment appeared first on On3.