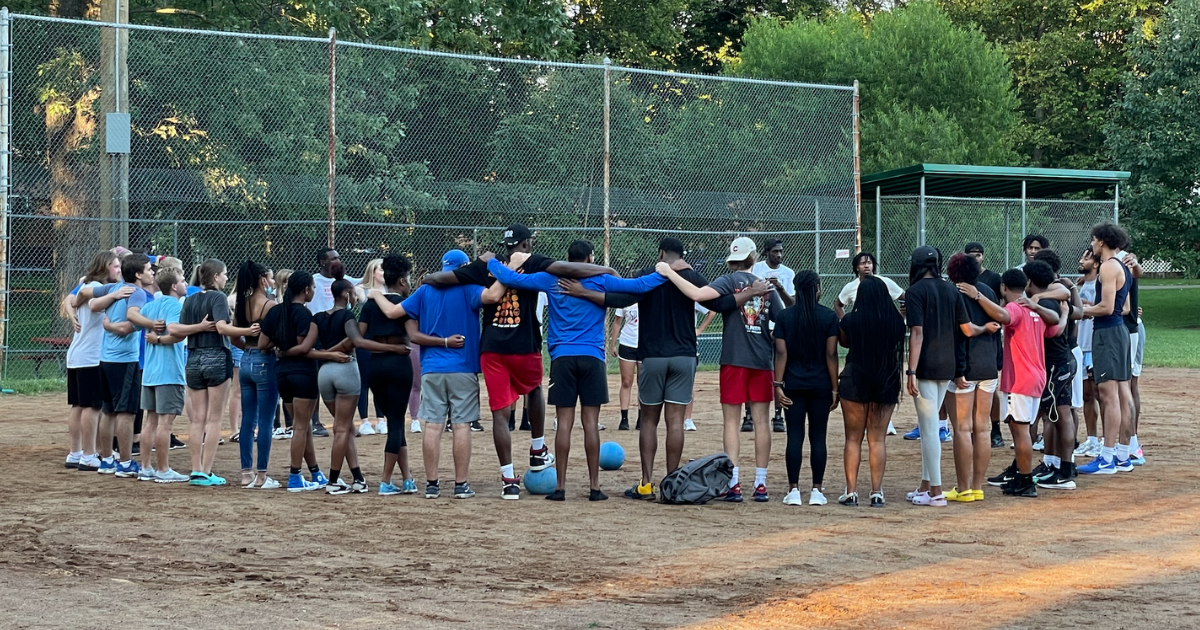 As summer officially winds down and classes go back into session, students are always looking to keep themselves entertained before drowning in homework and pulling all-nighters. For the Kentucky Men's Basketball Team, they relaxed with a friendly game of kickball.
On Monday evening at Woodland Park, located just off of the Kentucky campus, several basketball Wildcats took the field to play kickball with fellow UK students and members of the school band. Roughly 35-40 people showed up for one last hoorah before it becomes time to lock down for the fall semester.
The Kentucky basketball players there to have some fun included Jacob Toppin, Keion Brooks Jr., Davion Mintz, Sahvir Wheeler, Lance Ware, Bryce Hopkins, TyTy Washington, Daimion Collins, Kareem Watkins, and a late-arrival from Oscar Tshiebwe.
It was a good time all around.
"We just had a day off so I was just thinking let's have some fun," Ware told BBN Tonight's Anna Tarullo.
The guy's split themselves in half, with Hopkins, Washington, and Ware on one team while Mintz, Brooks Jr., Watkins, and Collins were on the other. Both teams had about 15-20 people each, so points were hard to come by and bunts were commonplace, but the excitement came down to extra innings before a winner was ultimately decided.
Toppin and Wheeler elected to play referee and coach, respectively, cheering everyone on, staying involved, and having fun from the "sidelines". The players also made sure that every single person kicked at least once before someone got to kick twice. Everyone was included.
"That means we've got some good senior leadership," Kentucky head coach John Calipari said during his Tuesday press conference about his veterans. "They did, I just learned this morning, kickball. I went, kickball? Where did they do it? Did they all do it? Who showed up? What was it about? They're engaging their fans. That's what this program is. We've built a culture in basketball here over my time that's about fan engagement."
After the first game ended, everyone on the field gathered into a circle where they sang Happy Birthday to the late Terrence Clarke, who would have turned 20 years old on Monday. Clarke was tragically killed in a car accident back in April.
Contrary to the 2020-21 team, which was restricted in what they could do due to COVID-19, the 2021-22 roster has more opportunities to go out in public and engage with fans and students. It's helping create a bond between the players that didn't exist a season ago. They're having real fun.
The post Kentucky Men's Basketball held friendly kickball game on Monday appeared first on On3.