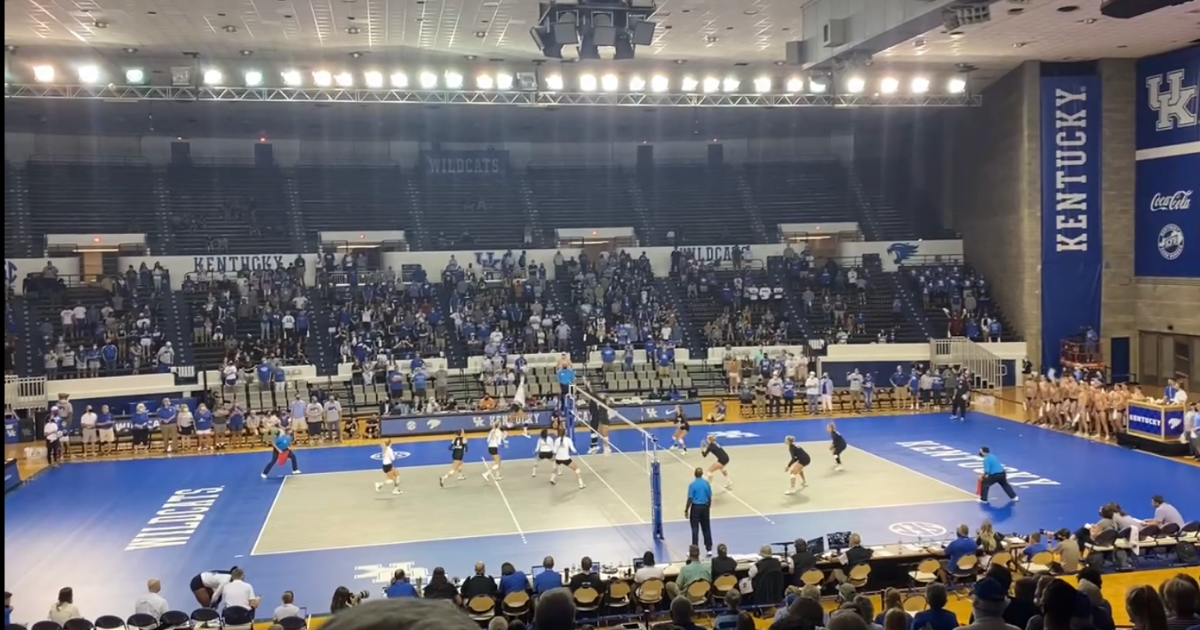 It was a weekend of highs and lows for the Kentucky Volleyball Team. Craig Skinner and co. hung a National Championship banner Friday night and followed up the celebration with a 3-0 victory over Northern Iowa.
Then, the 'Cats got off to a groggy start on Saturday morning with a shocking 3-0 loss to Creighton. And in the nightcap vs. Southern California, Kentucky got back on the good side of a 3-0 sweep to finish the Bluegrass Battle with a 2-1 record.
Here are the biggest talking points from the weekend:
Crowd Turnout
Let's start with some positives. The crowds this weekend for the Kentucky Volleyball events were incredible. The half of the lower bowl I sat in was pretty full both nights with fans of all ages.
Plenty of students showed up; there were a lot of older couples, and of course, a lot of younger girls eager to see their role models play. One little girl of maybe 4 or 5 years old sat behind me with her hands on her knees, hanging on every second of the action. She knew the roster as well as the coaching staff too.
The on-court success has helped build such a great community. But what's really cool about the program is stuff like that younger girl's (and all other aspiring volleyballers) passion and seeing UK fans of all ages and demographics gather for a fun atmosphere.
This weekend was fun. Come on out to a game this year if you never have. You want to be a part of this:
A Humbling Loss
Kentucky Volleyball took one on the chin Saturday morning. Perhaps they were hungover from the banner celebration and late-evening bout with Northern Iowa the night before. Nonetheless, a 3-0 loss to a currently unranked Creighton team is inexcusable.
Why did the 'Cats stumble?
Well, in simple statistical terms, their defense surrendered a hitting percentage higher than .300 to each of Creighton's top three attackers while UK's top three each finished the game below that mark.
Specifically, the Blue Jays duo of Jaela Zimmerman and Norah Sis just outplayed Alli Stumler and Madi Skinner. They had more attacks, more kills, and hit the ball more efficiently.
All six positions on the court matter, but their accumulated contributions are often represented in the hitting percentage. A team that plays more connected and in-system* is going to produce better offense, and a team that isn't is typically much less efficient.
*In-system, meaning the setter is able to put up a nice ball off the second touch as opposed to another player having to set or the setter being way out of position when trying to set and not being able to give the hitter a good ball.*
So, Kentucky struggled to get clean looks consistently throughout the Creighton game, while the Blue Jays were regularly setting up Zimmerman and Sis for kill attempts. The duo finished with 18 and 16 kills apiece, while Skinner led Kentucky with just 14.
They got outplayed. It happens. But let's break down Kentucky's offensive approach a little further:
Kentucky's Attack
Kentucky Volleyball isn't hitting the ball as well as they did a year ago. To be expected, though, considering last year's group snipped the nets in Omaha.
Last season, Madison Lilley headed up an attacking unit that included three elite hitters and two middle blockers who were even more efficient than the primary swingers.
Craig Skinner is rolling with a similar group in 2021, with Stumler and Madi Skinner returning as major pieces, and adding sophomore Reagan Rutherford to the main rotation. They also still rotate Elise Goetzinger and Azhani Tealer as middle blockers.
So, what's been the difference? Well, bluntly, it's been Alli Stumler and Reagan Rutherford.
Skinner, Goetzinger and Tealer are all hitting the ball more efficiently than they did last year. Tealer was one of the nation's most efficient attackers and is posting nearly identical numbers in hitting percentage and kills-per-set. Skinner hit at a .384% rate a season ago and is at .422% as of now, while killing .82 more balls per set.
And Elise Goetzinger, my goodness has she been excellent. She's slamming the ball at a .536% rate, though she still ranks last out of the main front row rotation in total attacks. Perhaps Kentucky should look to her a bit more.
Anyway, Alli Stumler is not the same attacker from last spring; and Reagan Rutherford just hasn't been quite as efficient as Avery Skinner, the hitter she replaced.
Stumler led last year's Kentucky Volleyball team and leads this year's team in total attacks by far. Her hitting% ranked lower than the Skinner sisters and Tealer in 2020, but she attacked A LOT more and still finished at a .345% clip, which is championship-level.
So far in 2021, Stumler is hitting just .204 on 191 attacks. She's the ace hitter, the go-to girl from the National Title run and expected to occupy the same role in her senior year. She simply has to get more efficient though.
But is her poor play a reflection of some bigger problems? Since Stumler is the lead attacker and plays all six positions, she cleans up messy possessions. On in-system possessions, she's still looked like the lethal Alli we all are accustomed to. When UK gets out of system, they're typically asking Stumler to save the possession with some sort of attack.
So, while she is less efficient than a year ago, the blame may not totally be on her. Need to remember: Emma Grome has played just six games as the Kentucky Volleyball setter — and Stumler is her safety valve. When out of system, the 'Cats are sending the ball Stumler's way and asking her to make some magic.
So that could explain the lack of efficiency. Stumler could definitely improve and needs to hit the ball better. But Kentucky also needs to clean up its first two touches and limit the out-of-system possessions.
How about the defense?
If you've followed this year's volleyball coverage, it's no secret that Kentucky Volleyball may have its best defense ever. The back row has three terrific defenders, with Riah Walker as libero and Lauren Tharp and Eleanor Beavin serving as defensive specialists.
Those three can dig any and every ball, and Walker especially has as much pure talent as any player on the team (and probably in the entire country).
Every single time I watch her play she makes a handful of remarkable digs. She's not a perfect passer yet — something former libero Gabby Curry was excellent at — but she just doesn't let balls get by her.
That elite defense faltered a bit against Creighton, but I'm not too worried. Maybe elite hitters like Zimmerman will give the Kentucky back row fits and it will be something to monitor in matchups against some of the better and more physical teams they'll face.
Part of the defense is blocking as well. With Tealer and Goetzinger, Kentucky Volleyball is as good a blocking unit as anyone. Against Northern Iowa, Tealer and co. swallowed balls at the net. UNI could not get any breathing room on their attacks.
Even against Creighton, Tealer had four blocks and Goetzinger added two. I'm sure Craig Skinner feels good about his blockers.
Wrap-up
Kentucky Volleyball smashed Northern Iowa 3-0 and started the game with as dominant a set as there is in Volleyball. Then they got kicked down a peg by a pretty darn good Creighton team before responding with a 3-0 sweep of USC — who took Creighton to five sets in a loss the night before.
Not an overwhelmingly positive weekend, but with two 3-0 victories and a brand new banner hanging in the Memorial rafters, the last few days weren't too bad for the Kentucky Volleyball program.
The post Kentucky Volleyball: 'Cats win two of three at Bluegrass Battle appeared first on On3.