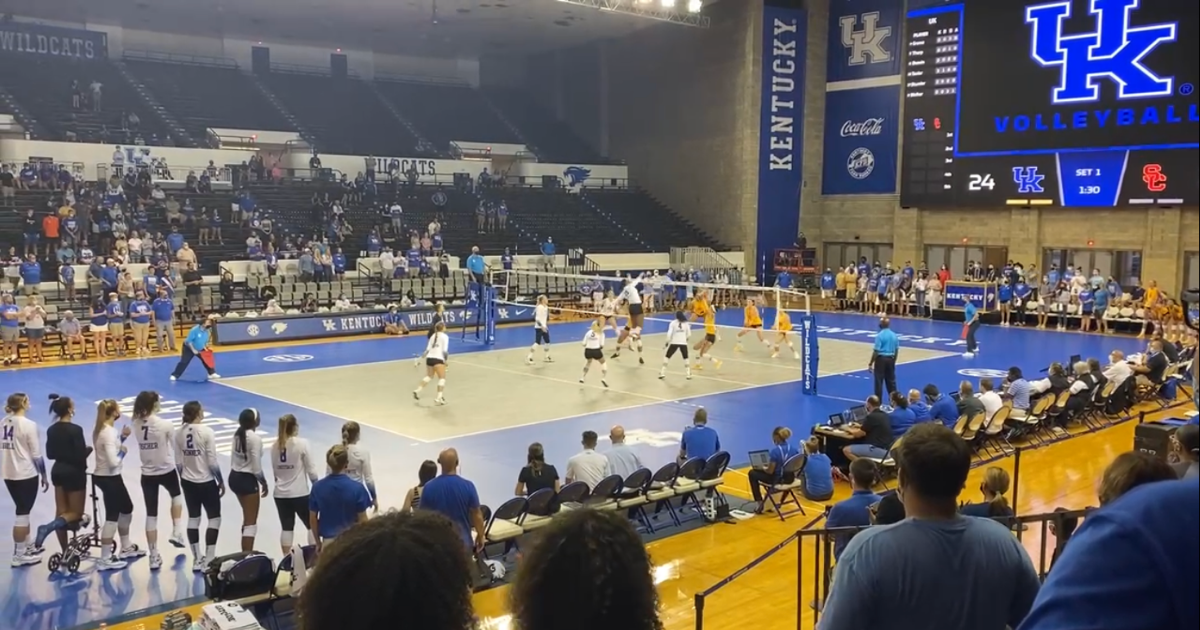 Kentucky Volleyball head coach Craig Skinner met with the media bright and early on Wednesday morning to discuss his team's performances this past weekend, as well as to preview the upcoming road trip.
8th-ranked Kentucky swept Northern Iowa and USC three sets to none and also dropped a 3-0 match vs. no. 19 Creighton during last week's Bluegrass Battle. (Check out KSR's full recap of the weekend right here).
This week, the 'Cats will travel to Wisconsin for a pair of matches vs. no. 2 Wisconsin and Marquette. Here were some of the big points Skinner hit on heading into the marquee matchup Friday night:
A massive matchup vs. Wisconsin
Though Kentucky Volleyball has already dropped a game, their toughest test of the young season will come Friday night against the Badgers, who are ranked 2nd in the country and made the Final Four last spring.
One player Coach Skinner has circled on the scouting report is super-senior hitter Dana Rettke. The 6-foot-8 (holy cow!) hitter has made four straight All-American teams and comes into 2021 as one of the premier attackers in the country.
Skinner joked that a step ladder may be the only way to stop her.
"She's gonna get kills. But if she goes off and has 25 kills and everybody else doesn't have their best night, then we have a chance to come away with a W."
She'll be the biggest threat, but Skinner noted that this is an ultra-experienced and talented team across the board — much like the Creighton team UK faced last Saturday.
It will be a test for the Kentucky Volleyball team, no doubt. But Skinner believes his girls will be much more prepared for the Badgers than they were for the Blue Jays.
"It's a helluva opportunity for us," he added.
What happened vs. Creighton?
When asked what his message to the team was after Saturday's loss, Skinner pointed to a lack of preparation.
"We were not prepared to play that match and we need to do a better job getting ourselves ready to play mentally and physically."
He noted that Creighton is a very good volleyball team (indeed they are, debuting in this week's rankings at no. 19). And that the Kentucky Volleyball defense he's raved about showed a few cracks.
Also, given that this is a younger group, Skinner admitted that many of his players hadn't had to play a night/morning back-to-back. And after hanging a banner and sweeping a lesser opponent, the focus may have been off the next morning at 10:30 a.m.
Alli Stumler's slump
I wrote last weekend about Kentucky Volleyball star Alli Stumler's problems with efficiency in her attacks. She's one of the leaders of the team off the court and was UK's best attacker a year ago. But through six matches in 2021, she's not hitting the ball as well as she'd like.
"She knows she's not attacking at the level she needs to and we've been working really hard on that this week," Skinner said, before pointing out that Stumler has "played with one setter, primarily, for three years and now Emma [Grome] is a different setter. So just the timing, relationships of that take a little bit of time."
Nothing too worrisome about Stumler's uncharacteristic start. She just needs some time to adjust to playing with a brand new setter.
He ended his comments with some encouragement: "She and Emma have worked on that this week and it's actually looked pretty good. There's progress."
The face of the Kentucky Volleyball program won't let a small slump get in the way of another terrific season. She'll figure it out.
The post Kentucky Volleyball: Skinner previews HUGE game vs. no. 2 Wisconsin appeared first on On3.