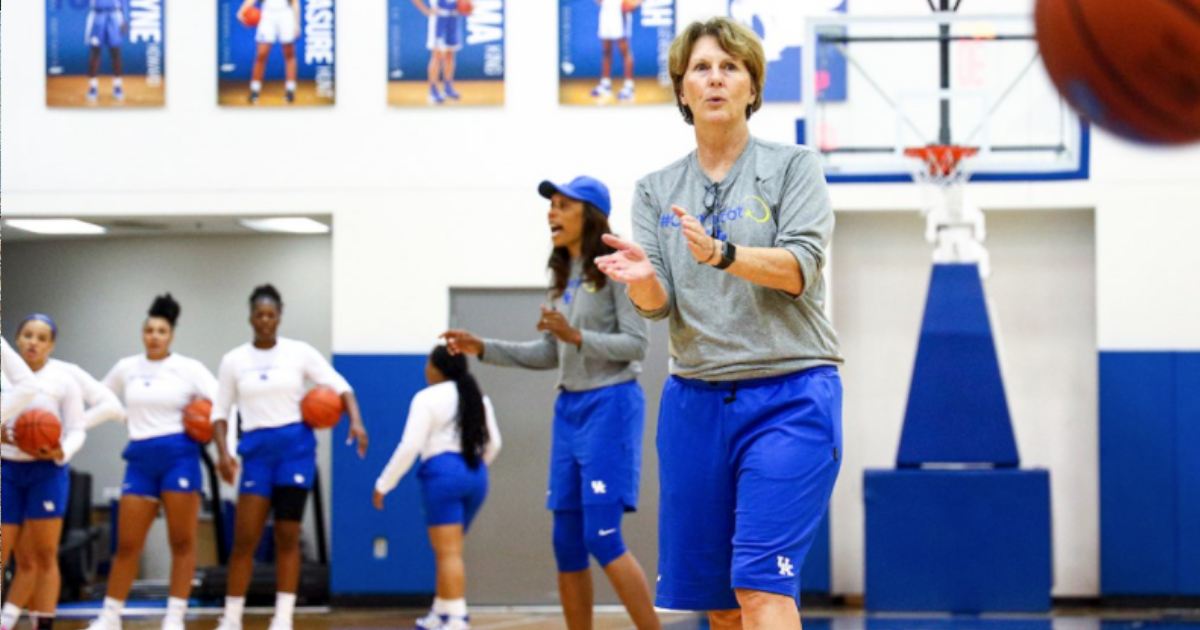 The first official season of the Kyra Elzy era is under a couple of months away, and now we know the opponents that the Kentucky Women's Basketball squad will go up against.
On Wednesday afternoon, the WBB team announced its full schedule for the upcoming 2021-22 season. The non-conference slate begins on Nov. 4 with a home exhibition game against Lee University. The first regular-season game is against Presbyterian College on Nov. 9.
The non-conference schedule is highlighted by road games against Indiana and Louisville along with home games against DePaul and West Virginia. IU, UL, and WVU are all expected to begin the season as top 20 teams in the country while DePaul almost always fields a borderline top 25 roster.
Kentucky's Southeastern Conference portion will begin on Dec. 30 against the Auburn Tigers on the road and conclude against the same Auburn squad on Feb. 27, 2022, at home. The 2022 SEC Tournament will run from March 2-6, 2022.
UK also said that there is a possibility of another non-conference game being added sometime in November. The TV schedule and tipoffs times for the full schedule will be announced at a later date.
"We are very excited to announce our schedule for the upcoming season," Kyra Elzy said in UK's press release. "We have a solid slate in place that will challenge our team from start to finish. Hosting West Virginia and DePaul at home are two great non-conference games for our fans. Add in the always tough SEC schedule and it should make for a thrilling 2021-22 season. I'm proud of the hard work that our team has put in this summer. That strong work ethic has transitioned into preseason practice as well. I want our players to experience Big Blue Nation at its fullest. Season tickets are available and at a great price. Let's pack Memorial and create a home court advantage unmatched in the nation."
Below is the entire Kentucky WBB non-conference schedule:
Nov. 4 (exhibition) – vs. Lee University
Nov. 9 – vs. Presbyterian College
Nov. 11 – vs. North Alabama
Nov. 14 – @ Indiana
Nov. 21 – vs. Winthrop
Nov. 28 – vs. La Salle
Dec. 1 – vs. West Virginia
Dec. 5 – vs. Merrimack College
Dec. 9 – vs. DePaul
Dec. 12 (ESPN Jimmy V Classic) – @ Louisville
Dec. 17 – vs. Morgan State
Dec. 19 – vs. South Carolina-Upstate
Below is the entire Kentucky WBB SEC schedule:
Dec. 30 – @ Auburn
Jan. 3 – vs. Mississippi State
Jan. 6 – vs. Georgia
Jan. 9 – @ South Carolina
Jan. 16 – @ Tennessee
Jan. 20 – vs. Florida
Jan. 23 – vs. Ole Miss
Jan. 27 – @ Vanderbilt
Jan. 30 – @ LSU
Feb. 6 – vs. Texas A&M
Feb. 10 – vs. South Carolina
Feb. 13 – @ Alabama
Feb. 17 – vs. Vanderbilt
Feb. 20 – @ Arkansas
Feb. 24 – @ Missouri
Feb. 27 – vs. Auburn
Stay tuned for a reactions post from KSR's Women's Basketball beat writer Grant Grubbs.
The post Kentucky WBB releases full 2021-22 schedule appeared first on On3.