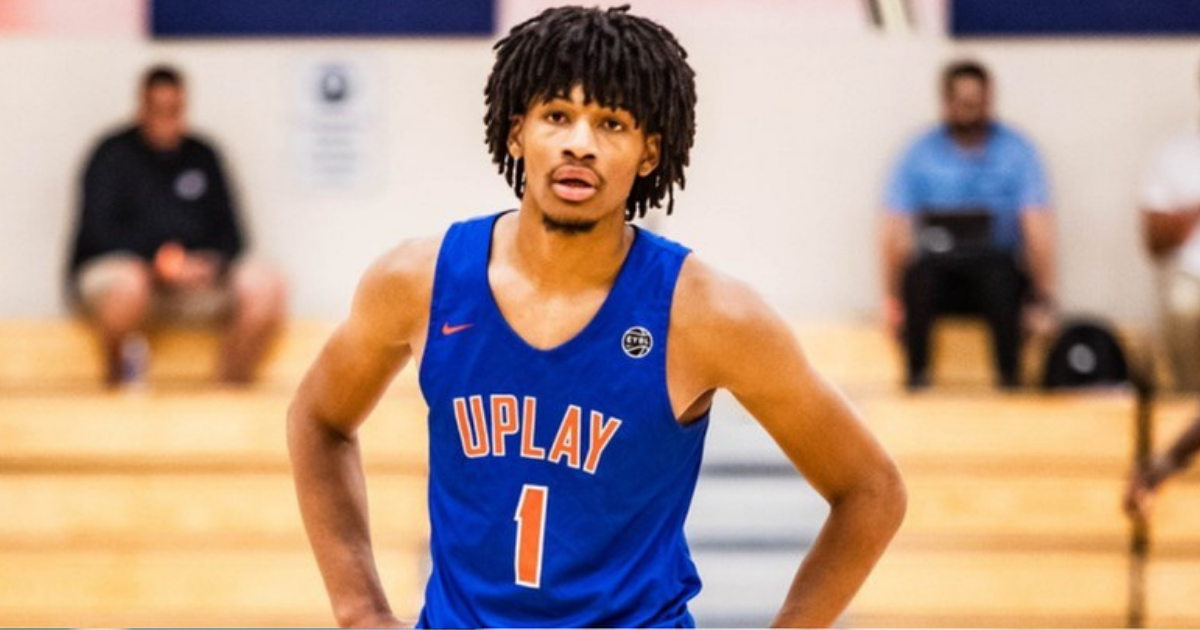 Shaedon Sharpe is here and the 'Cats are back. It has been a long time since the Kentucky Wildcats have landed the nation's top recruit. It has also been awhile since Orlando Antigua was leading the recruiting efforts in Lexington. Now, Coach O and the staff have landed Shaedon Sharpe who is ranked as the #1 overall prospect in the Class of 2022 per On3 Sports.
On Tuesday evening, Shaedon Sharpe made his commitment to Kentucky official. The 6'5″ shooting guard chose Kentucky over Arizona, Kansas, Oklahoma State, and the G League Ignite program.
The love affair between Coach Calipari, the Kentucky Basketball staff, and Sharpe has been well documented over the last month or so. He recently visited campus for a second time which all but sealed the deal that the 5-star guard would land in Lexington.
Sharpe solidified himself as the best player in the class with an extremely strong showing the Peach Jam back in July. Playing with UPlay Canada, Sharpe averaged 22.6 points (48% FG, 36.4% 3PT), 5.8 rebounds, and 2.7 assists per contest in 12 games. Sharpe led the prestigious event in scoring and finished in the top five in three-pointers made.
So, what is Kentucky getting in Shaedon Sharpe? Is this the next All-American caliber freshman in the Coach Cal lineage? Let's step on in to the KSR Film Room and find out.
Shot Making
When it comes down to it, Shaedon Sharpe is a shot maker. The guy can flat out score the basketball and makes some really difficult plays look easy. Now, along with that, there is a give and a take. That is what we will be exploring throughout this breakdown.
The Malik Monk comparison will be a very popular one among Big Blue Nation. In a lot of ways, it does fit. Both are scoring off-guards that make their living with jump shots. However, Monk was actually an extremely efficient scorer and it is to be determined if Sharpe can match that sort of production. More on that later.
---
One thing Sharpe does very well is create separation. Due to his size and athleticism the defense has to respect the drive while also trying to contest his shooting ability. Sharpe's footwork and balance on the perimeter are second to none. The way he stays "stacked" meaning that his feet, hips, and shoulders remain in alignment through his dribble moves is very, very impressive.
---
One thing that was sorely missing from last season's team was basketball IQ. That was true both for the younger guys and the more experienced players. Shaedon Sharpe plays with a high basketball IQ already. Playing off of the wing ballscreen, Sharpe immediately recognizes the switch and that his new defender is playing a couple of steps off of him. He then covers a ton of space with his side step dribble to create separation and knocks down the three-pointer.
Not only does Sharpe stay stacked and on balance once again, but he shows off some really high-level ball skill. Coming off of the ballscreen it only takes him two dribbles to cover all of the ground from the left wing to the top of the key. A lot of high school players simply dribble too much but on this play at least Sharpe executes perfectly. Later, we will see that Sharpe has a tendency to over-dribble as well, but this clip shows that he has the ability to improve in that area.
---
Some guys can just flat out get buckets. Shaedon Sharpe is one of those guys. I'll admit, I do not love this shot. Sharpe takes this shot a lot. I wish that he was more comfortable off of the dribble so he could attack the basket here. If he can make 35% of his 3's then he can take whatever ones he wants, but I worry that his percentages will struggle in college due to the high degree of difficulty on a lot of his attempts.
However, right now, Sharpe is a good shooter that makes enough to not really be questioned. He clearly has these type of moves in his repertoire and once again shows off the athleticism and balance necessary to knock it in. It has been several years since Kentucky has had a shot-maker like this.
Play Making
This is where things get a little interesting when watching the tape. Shaedon Sharpe is obviously a great scorer with a ton of skill. There isn't a shot on the court that he can't make. However, there are some legitimate concerns about his ball handling and that holds him back as a driver. For a player of his caliber he too often settles for jump shots because he either can't, or isn't comfortable trying to, beat his man off of the bounce.
After watching the 2019-2020 Kentucky Wildcats we have seen what can happen to a team on the offensive end when they can't create off of the dribble. Sharpe, unlike last year's players, is excellent at creating separation on the perimeter. He also is just a better pure shooter than many of those players. However, when he takes multiple dribbles he generally ends up settling for some sort of step back jumper instead of getting to the rim. That quite simply puts a ceiling on how efficient he can be offensively.
---
This clip is a perfect example of why Kentucky fans can continue to be optimistic about Sharpe despite some pure ball handling concerns. What he may lack in that department is made up for with size, physicality, and athleticism.
Sharpe gets cut off on his initial drive, but is able to get his defender to bounce off of him while changing directions and then finishes at the rim with his left hand. That takes elite, elite athleticism.
---
There is absolutely no denying the talent that Shaedon Sharpe possesses. He has the ability to be one of the nation's premier scorers and playmakers as soon as he steps on campus. He makes some high-risk, high-reward plays with the ball that result in SportsCenter level highlights.
Throughout watching his film it has become apparent that he is very comfortable playing off of the ballscreen. He can make threes behind the ballscreen when defenders go under, he can create separation when they switch, and here he shows the ability to split the ballscreen against a hard hedge. Playing off the ballscreen is a huge part of scoring at the college level and Sharpe certainly has proven he has that in his game.
Room for Improvement
When you are looking for holes in the game of the number one player in the country it can be very difficult. Often times you must resort to nit-picking. That is certainly the case with Shaedon Sharpe. His talent is undeniable. However, there are some concerns with his ability to get to the rim off of the dribble. Along with that, he settles for too much jump shots.
The transition to the high-major college level isn't easy for the vast majority of high school athletes. Sharpe won't be any different. While his overall scoring ability will translate immediately, it could take awhile for the efficiency to be there. Those 18-foot jump shots won't be as open as they were in high school. He might be lights out from day one, but don't be shocked if he is shooting below 40% from the field and 30% from three-point range at Christmas either. Let's take a look at the film to see some of the small concerns.
---
It is hard to just show one miss and draw large conclusions. However, that is a lot of what highlight films are in terms of showing the makes. That is why watching full game film will always be the best way to evaluate prospects. In the KSR Film Room, we watch full game film.
The beginning of this clip is perfect. Sharpe catches the ball and rips baseline which is always a great place to take it. Off of the rip through and first step he has his shoulder passed the defender. However, instead of using his strength and athleticism to take one more dribble and finish at the rim, he settles for a step back 15-footer. To be an All-American, Sharpe needs to finish this at the rim. Instead of a missed, low-percentage jumper this needs to be a layup or at worst two free throws.
---
When breaking down film with your team or individual players sometimes the best way to get a point across is to coach off of a "positive" clip. The play above ends in a made shot and two points. Shaedon Sharpe thinks he just made a good play. Scorers like him are going to make plenty of tough, even "bad", shots over the course of a game. However, that doesn't mean it can't still be a coaching point.
First off, it isn't that often in college that you can take more than five dribbles and find success. Also, going behind your back with a dribble typically leads to a turnover at the next level. After a bunch of pounding the rock on the perimeter, Sharpe finally gets into his move but gets cut off and resorts to a behind-the-back dribble into his jump shot. Again, he needs to be able to take this to the rim. The shot went in, but it is going to be really hard to get this shot off in the SEC. Sharpe is a star, but that doesn't mean his game is fully developed just yet.
Pace & Footwork
After covering some of the concerns regarding Shaedon Sharpe, let's bring it back around to the positive side before shutting off the tape. There is no doubt that he is the best player in the Class of 2022 and an instant impact scorer. These next two clips will really drive that home.
---
One of the many reasons why Sharpe is a sure-fire scorer at the collegiate level is because he is advanced at playing off of a ballscreen. Despite not having the tightest handle, Sharpe plays with great pace and can make the defense pay for any ballscreen coverage.
Admittedly this is bad ballscreen defense as the on-ball defender went over the screen but there was no hard hedge. Regardless, Sharpe quickly gets downhill and makes them pay with a nice pull-up jumper. These are the mid-range shots you don't mind seeing him take. He takes what the defense gives him and is essentially uncontested. The subtle change of speed at the point of the screen and the ground he covers with that second dribble are examples of NBA-level ball skill.
---
A lot of this film breakdown focused on what Shaedon Sharpe can do with the ball in his hands. However, that may not even be where he is at his best. Especially with Dream City Christian during the high school season, Sharpe played off the ball almost exclusively. He is an active cutter, reads screens well, and again shows off his outstanding balance.
This is a simple baseline pindown screen in the above clip. The defense lazily goes up through the screen which allows Sharpe to flare the screen to the corner. There he receives a pass and launches a mostly wide open three-point attempt that is nothing but net. The impressive part here is that he is able to get the shot off so quickly despite moving away from the basket. His ability to set his feet, get his shoulders square, and fire an on-balance attempt shows the makings of a great shooter.
The post KSR Film Room: Shaedon Sharpe appeared first on On3.