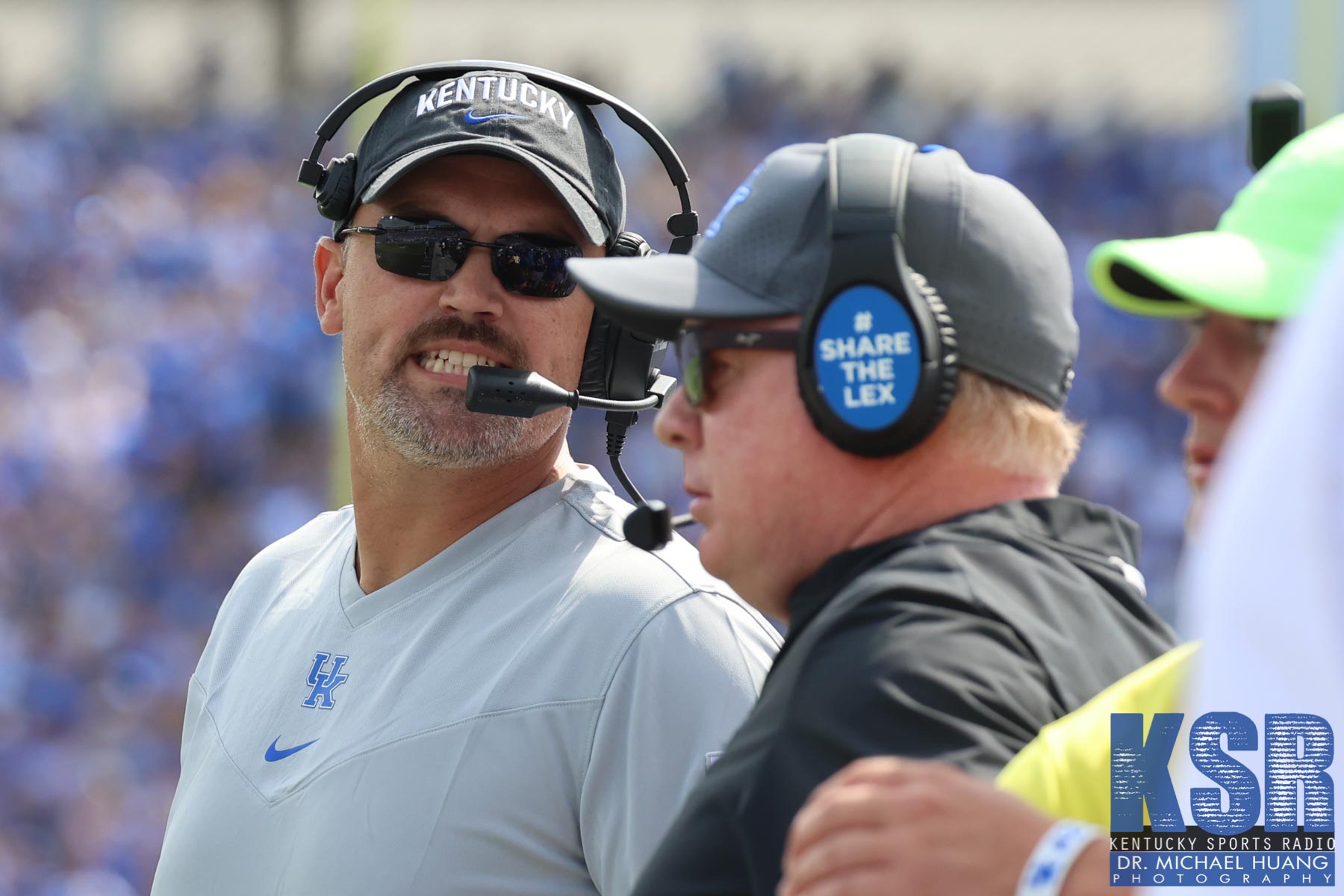 Last week was fun, but Week 2 will have an uptick in stakes. Kentucky is moving on to the first conference game of the season as Eliah Drinkwitz brings his second Missouri team to Lexington on Saturday night.
KSR's Monday Huddle returns to help set the stage for a monster football weekend in Lexington. The Wildcats are set to face an SEC East foe and the winner will have a great chance to emerge as Georgia's biggest contender in the division.
All signs point to this being one of the most important games of the 2021 season.
First Down: Connor Bazelak vs. Will Levis
After seeing four quarterbacks selected in the 2021 NFL Draft, the SEC finds itself in a bit of a bridge year. Georgia's JT Daniels and Ole Miss' Matt Corral could be the next draft stars while Florida and Texas A&M attempt to reload with former blue-chip recruits. However, the league's tier structure could be shuffled this season due to the instability at quarterback.
Due to this, Missouri quarterback Connor Bazelak has been talked about glowingly. The redshirt sophomore out of Dayton, Ohio, was recruited by Kentucky in the class of 2019 but ended up in Columbia. Drinkwitz inherited the young quarterback as he passed for over 2,000 yards and went 6-3 as a starter. His return had many believing in the Tigers heading into the season.
After tossing for 257 yards and a pair of scores against Central Michigan last week, those expectations have not gone away. Bazelak has pro potential and gives a bottom-half roster in the SEC a chance to win every Saturday.
In the huge battle between the two programs, Bazelak appeared to be the trump card that could give Mizzou an advantage over Kentucky. Well, Will Levis has entered the chat.
The Penn State transfer has been one of the biggest talking points in college football after he threw for 367 yards and four touchdowns in his Kentucky debut. If the redshirt junior is good, that can make the Wildcats dangerous.
Thanks to consistent recruiting results and head coaching stability, Kentucky appears to have a better roster than Missouri. With this game being in Lexington, that gives the Wildcats an edge. However, the quarterback position can change a lot.
This will be the top matchup for this contest and will be talked about ad nauseam during the game week. If Levis just plays Bazelak to a draw, Kentucky should have a great chance at victory.
Second Down: Kentucky, Missouri are havoc creators
In last week's season-opening wins, both defenses at Kentucky and Missouri had some bright moments. The biggest takeaway for each may have been the ability to create negative plays.
In the 45-10 win over ULM, Kentucky recorded 14 tackles for loss and two pass breakups in 63 snaps notching a havoc rate of 25.4 percent. In the 38-24 victory over Central Michigan, Mizzou logged 14 tackles for loss, six pass breakups, and two interceptions in 86 snaps posting a havoc rate of 25.58 percent.
Saturday could be a battle of playmaking on defense.
For Mizzou, Rice transfer Blaze Alldredge is already making a major impact at Mike linebacker. The two-time All-Conference USA selection was a major playmaker in 2019 for the Owls recording 102 tackles and 21.5 tackles for loss. That playmaking was on full display in the opener recording 10 tackles, 6 tackles for loss, and 3.5 sacks in his debut at Missouri.
Both offenses want to stay on schedule and then take some home run shots in the vertical passing game when opportunities present themselves. That can be hard to do when you get behind the chains due to negative plays.
The havoc battle will be something to monitor on Saturday night.
Third Down: Kentucky needs run game improvement
Against Central Michigan, Missouri's defense allowed 242 rushing yards on non-sack attempts as the Chips average over eight yards per attempt. That should be music to Kentucky's ears.
To begin the season, the Wildcats rushed 169 yards taking out sacks, and averaged 5.6 yards per attempt, but just did not look their normal self most of the game. Offensive coordinator Liam Coen does not appear to be too worried about the ground attack moving forward.
However, the Wildcats will need Chris Rodriguez Jr. to return to his efficient form to open up everything for the passing game weekly.
Over at Missouri, senior Tyler Badie rushed for 203 yards on 25 carries in his debut as a first-time starter while also recording 40 yards on three receptions. The Tigers had to ride the former low three-star recruit to the winner's circle.
Badie finished the game with a 52 percent rushing success rate in the outing to go along with a 32 percent explosive rush rate. Meanwhile, Kentucky gave up only 60 non-sack rushing yards on 39 carries last week.
The quarterback matchups will be fun, but whichever team can establish efficiency in the ground game will have a great chance at victory.
The week ahead at KSR
SEC football makes its return this week. It feels so good to be back.
With the contest against Missouri getting the night slot on the SEC Network, the atmosphere and lead-up to Saturday night will be thrilling for all football fans in the Big Blue Nation. KSR will be here along the way to help us get to Saturday.
There will be podcasts galore with The KSR Football Podcast recording an episode on Monday evening. Meanwhile, KSR will also provide coverage for Mark Stoops' press conference and radio show on Monday to go along with practice reports throughout the week.
Meanwhile, a boatload of game content will be arriving as we approach a huge point of the schedule in 2021. This one is very big.
The post KSR Monday Huddle: Judgment Week appeared first on On3.