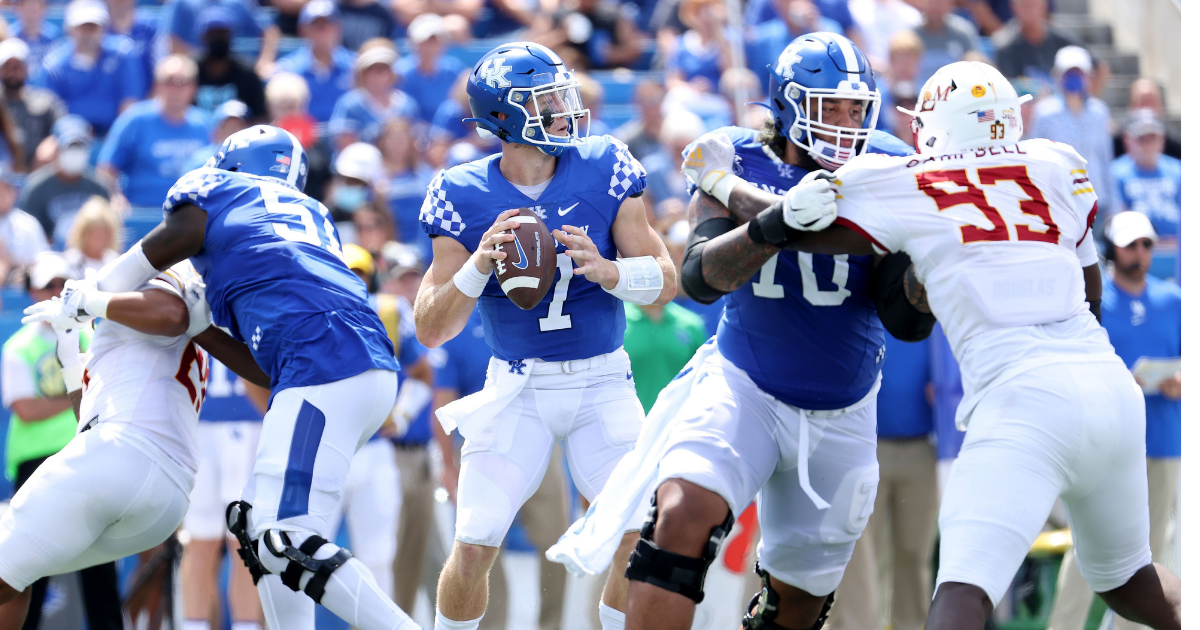 Ladies and gentlemen, football in the bluegrass is back in a big way! It's been a weekend full of fun for the Big Blue Nation. From Kentucky Football dominance to commanding performances on the volleyball court, the 'Cats have shown out the past few days. Let's break it all down.
Kentucky Football defeats ULM 45-10
Don't get me wrong, Kentucky has had a great run the past few years, but this feels more like a leap. Yesterday, the Wildcats obliterated the University of Louisiana-Monroe in their first contest of the season.
With new offensive mastermind Liam Coen and Will "the thrill" Levis in the blue and white, the 'Cats looked like a brand new product. An enthralling one, at that.
Levis led the way for Kentucky with 367 passing yards while completing 18/26 passes from the field… Not too shabby. Of course, Levis' wild stats didn't appear out of thin air.
Offensive studs Josh Ali and Wan'Dale Robinson combined for a jaw-dropping 261 receiving yards. While Robinson and Ali controlled the skies, Chris Rodriguez kept ULM buried in reality. Moving like a locomotive with broken brakes, Rodriguez rattled off 125 yards on only 19 runs.
It's safe to say, BBN was welcoming this new era of flashy football with open arms.
Kentucky Football's Defense does its part
Of course, Kentucky's defense couldn't let their fellow Wildcats have all the fun. In fact, Kentucky's blue curtain of 'Cats did more than have fun; they made history. For the first time in 25 years, Kentucky's defense held an opponent to under 100 yards of offense in a game.
While the 'Cats indeed locked up as a unit, there was no shortage of impressive individual performances. Kentucky Football star Josh Paschal led the team with seven total tackles. Trailing him, Jordan Wright, DeAndre Square and Davonte Robinson all recorded an impressive six tackles.
All in all, the Wildcat stars exceeded expectations, and their comrades followed suit.
Social media storm
Kentucky Football season undoubtedly brings something special out of BBN. Fortunately for us, most of it is published on Twitter.
Whether it was unpeeled banana talk or Wildcat hype, BBN made their influence felt far and wide Saturday afternoon.
Fans aren't the only ones that were spilling their emotions on Twitter. Former 'Cats had a lot to say about Kentucky Football's new look. Ranging anywhere from excitement to understandable jealousy, the alumni were certainly vocal.
While, admittedly, some may have been more excited about the Wildcats' success than others, Saturday's excitement was unignorable.
Kentucky Volleyball continues to excel
As much as the football team impressed this weekend, it's nearly impossible to top the volleyball team's success.
After officially unveiling the 2020 National Championship banner, the volleyball team won two out of their three matches over the weekend.
The 'Cats defeated both the University of Northern Iowa and the University of Southern California convincingly. Unfortunately, the Wildcats showed they still have work to do after dropping a match to Creighton on Saturday morning.
Despite the minor setback, Big Blue Nation had an unforgettable weekend. Though we'll certainly be talking about these exciting times the next few days, don't look to the past for too long. It's been a fun ride so far, and it's only going to get more hectic. So, buckle up as we head into another week of Wildcat action.
The post KSR Today: Kentucky Football is Back and Better Than Ever appeared first on On3.