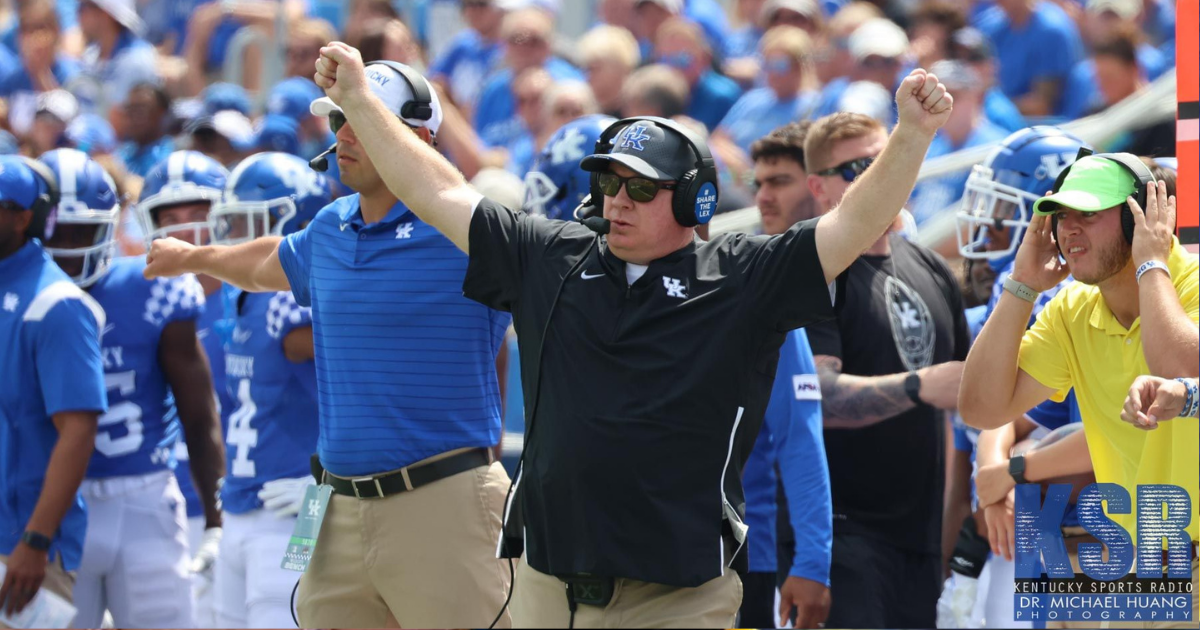 Good morning, folks! We're now just two days away from the all-important, potentially season-defining matchup against the Missouri Tigers. Kentucky's opportunity for a special season begins with exacting revenge on Mizzou.
Missouri's head coach Eliah Drinkwitz downplayed the importance of the game during his media availability this week, even going so far as to say that his team isn't prepared to face Kentucky.
"We're nowhere near ready to play such a good team on the road," Drinkwitz said on Wednesday.
Mark Stoops will talk with the media later today to give us his thoughts on the matchup so stay tuned for updates on that. In the meantime, let's get caught up to speed on what you need to know ahead of your Thursday.
NEW KSR Kroger Game of the Week
Audible!
Due to COVID-19 protocols, the original Kroger KSR Game of the Week featuring Shawnee at Jackson County has been canceled. The two will attempt to reschedule their game at a later date.
With that being said, KSR is headed back to Louisville for the second week in a row, this time for Belfry (0-3) vs. No. 19 Central (1-2).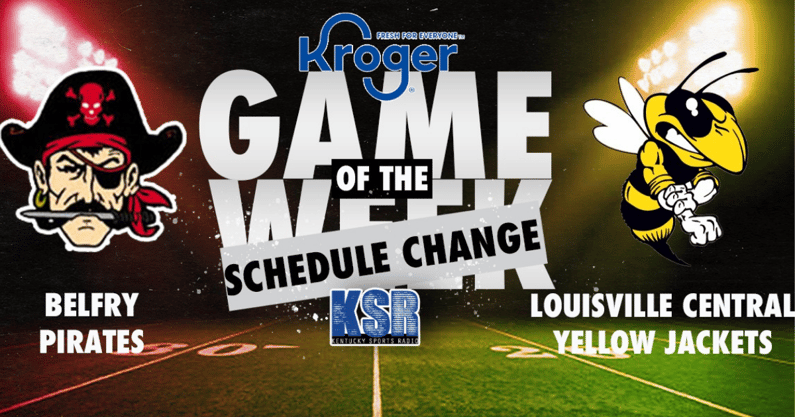 Former Central coach, Ty Scroggins, who unfortunately passed away earlier this year after a battle against COVID-19, is set to be honored before the matchup. Central is naming their athletic complex after the late coach. From now on, it will be dubbed the Tyrran Scroggins Athletic Complex.
The dedication is set for 7 p.m. this Friday, 30 minutes prior to kickoff.
Calipari building recruiting momentum
After coming on the radio show Wednesday morning, Kentucky MBB head coach John Calipari got right back to work on the recruiting trail. He just locked up the no. 1 player in the nation on Tuesday in Shaedon Sharpe, and now has multiple visits scheduled in the near future to go meet with recruits.
In particular, the Kentucky staff is expected to meet with five-star center Dereck Lively II this morning up in Pennsylvania. Current Wildcat commit Skyy Clark is getting a double-dose of in-home visits. Jai Lucas will visit Clark in Florida on Thursday with Calipari coming down for a visit on Sunday.
It's starting to feel like Calipari has his recruiting swagger back, and shades of Swaggy Cal resurfaced during his interview on KSR.
"We're going to underpromise and overdeliver, it's just how we do it here," Calipari said on KSR. "At some point they may say 'It doesn't work anymore.' Well, that'll be at the point I'm not doing this anymore."
4-star OT impressed with Kentucky's offense
Aamil Wagner is one of the highest-rated recruits on Kentucky's Big Board right now and he left Lexington last weekend incredibly impressed with what he saw on the field.
A 6-foot-6, 255-pound offensive lineman from Dayton, OH, Wagner has been trending toward Kentucky ever since he came for a game visit on Saturday. He spoke with KSR earlier this week to break down how it all went.
"I thought the game visit was great," Wagner told KSR on Tuesday. "I've been to a lot of Kentucky games, I've been going there over the years. So I've gotten to experience a lot of home crowds big and small. I think the biggest surprise for me was how often they threw the ball. I remember last time at a Kentucky game, Lynn (Bowden) was at quarterback and they pretty much ran every play. So to see just how it changed in the offense and seeing them throw 30 passes in a game was just remarkable. So I was excited to be down there and just get to experience that."
You can read the entire article at the link here.
Entire 2021-22 WBB schedule released
Another year means another chance to fight for NCAA dominance. After a long-anticipated wait, Kentucky Women's Basketball has finally released its schedule. Though it'll undoubtedly be a challenging year, it's shaping up to be equally fun.
There are four high-profile non-conference games: on the road against Indiana and Louisville, and at home against West Virginia and DePaul. All four opponents could be ranked in the top 25 by the time the season begins. The SEC schedule will begin on Dec. 30 against Auburn.
The Kyra Elzy era is about to officially get rolling.
Brandi Romines on Baking Impossible
Go ahead and mark your calendars for Oct. 6. One of the Big Blue Nation's most loyal fans and a frequent caller into KSR, Kentucky native Brandi Romines is set to appear in Netflix's upcoming baking show, Baking Impossible.
For those of you who aren't familiar with Romines, who was proudly born in the 606, you might remember her call into KSR from earlier this year when she took up in defense of the Kentucky Men's Basketball program.
But she's much more well-known than just for calling into a local sports radio show. Romines is one of the most talented cake artists around and she had the opportunity to prove it for all of Netflix to see.
That's all we've got for you this morning. We've got Matt Jones and the crew coming up in an hour.
The post KSR Today: Recruiting momentum and preparing for Missouri appeared first on On3.