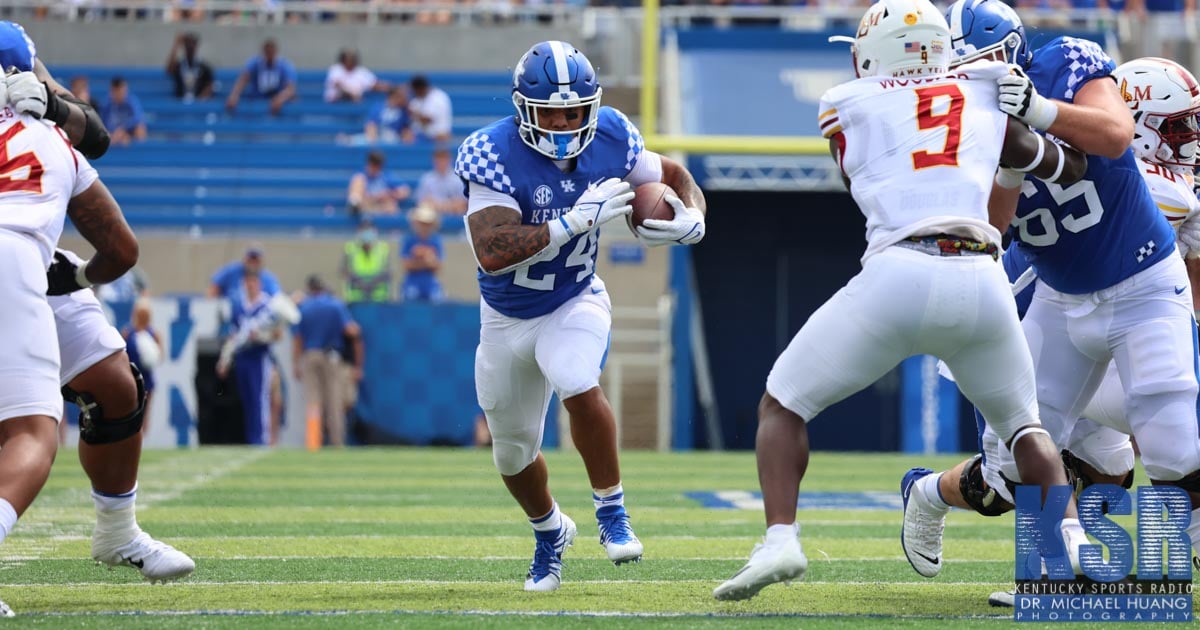 Before Chris Rodriguez was a one-man wrecking crew, he was another guy fighting for snaps in a crowded backfield that was trying to replace a legend. It did not happen right away. In fact, he could not have gotten off to a worse start.
In the first game after Benny Snell's record-breaking career, Rodriguez got the rock early. Trailing 7-0 to Toledo, his number was called near the goal line. Inches away from recording his first career touchdown, he put the ball on the turf.
Luckily, Justin Rigg jumped on the fumble in the end zone, giving the Wildcats a touchdown. However, a second fumble officially put him in the doghouse. Rodriguez did not receive another carry for a month. On the latest episode of Pin it Deep, Rodriguez shared how he dug out of that deep hole.
"I sat down and I talked to Ricky Lumpkin, one of the athletic advisors (and a former Wildcat who spent five years in the NFL). I sat down, talked to him and was like, 'Man, I thought this was supposed to be my year. I fumbled. I know they're not going to play me.'
"Ricky told me, 'Just keep your head up. You never know. Once you get your chance, once you get your opportunity, make the most out of it.' South Carolina game came around and we were losing pretty bad and I got in and just started doing what I was doing. I actually scored my first touchdown."
That touchdown drive was the first with Lynn Bowden at quarterback in 2019 season. Even though it was garbage time of a big loss, that sequence of events changed Kentucky football history by lifting the burden off Rodriguez.
"Then I was like, you know what, let's put the past in the past. It doesn't need define who I am. I've made it this far and I don't really look back on it."
Lesson that Applies Today
Nobody is ever going to be perfect. All great athletes must learn how to overcome adversity. The lesson Ricky Lumpkin taught Rodriguez is one the running back now shares with his teammates.
When Rodriguez was down and out in 2019, Kavosiey Smoke had his back. On Saturday Rodriguez had Smoke's back after he fumbled the ball and dropped a pass in open space.
"He kind of put his head down after he fumbled the ball, missed a catch, he wasn't having the best day." Rodriguez told him, "'Put that behind you. Next week, you never know what can happen.' It's just like last year. I wasn't the starter, but the Georgia game I took over that load and I played a lot. You never know what's going to happen."
Smoke was not the only player who did not have things go his way on Saturday. Will Levis' first pass as a Wildcat was an interception. The quarterback did not flinch when he returned to the huddle on the following drive.
"That doesn't define who we are, let's keep moving forward," Levis told his teammates.
Kentucky moved forward with 564 yards, four passing touchdowns from Levis and a 45-10 win.
Rodriguez spoke candidly about the victory, sharing what he needs to do to improve in the new rushing scheme installed by Liam Coen. The UK running back also told his favorite Mark Stoops' pregame speech and much more. Subscribe, rate and review to make sure you don't miss and episode of "Pin it Deep" on Apple Podcasts, or listen to it all on the KSR podcast feed on Spotify.
The post Lessons Chris Rodriguez Learned from Overcoming Adversity appeared first on On3.