Kentucky's season-opening win over ULM was fun, but Saturday night's game vs. Missouri is much more important. Not only will the Cats look to avenge last season's 20-10 loss to the Tigers in Columbia, a win could have massive implications on the SEC East standings. During today's press conference, Mark Stoops repeatedly called on the Big Blue Nation to pack Kroger Field for the 7:30 p.m. kickoff.
"Looking forward to a packed house," Stoops said. "We're going to need it. It's going to be a big challenge. They did an excellent job against us a year ago. We have a lot of things to improve on to beat this team."
According to UK, 47,693 fans attended the ULM game. Stoops said it was nice to see the stands (somewhat) full of fans again, but for a primetime kick against a big conference opponent, he won't accept anything less than a sellout Saturday night.
"It was great to get home last week. Whatever time we play, I appreciate the fans being there. It was warm but at least it was decent and [I] appreciate the people being there.
"It's going to be a night game so no excuses. We need to have the place packed. Looking forward to it."
Ticket availability as of Monday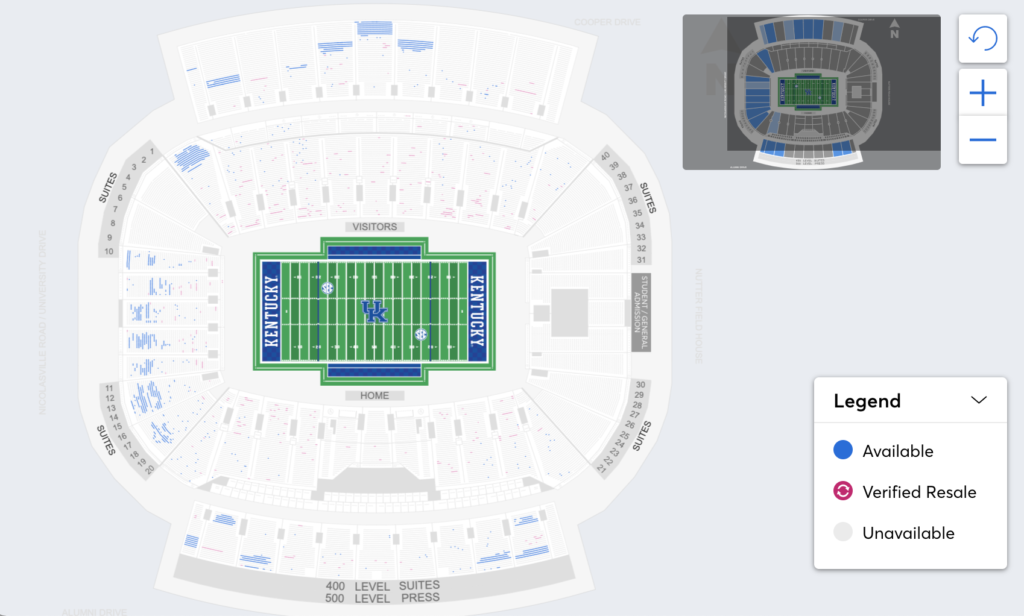 As you can see, there are still plenty of tickets available for Saturday starting at $45. To purchase yours, visit Ticketmaster.
Missouri game is also Military Appreciation/Heroes Day
Every year, Kentucky hosts Military Appreciation/Heroes Day, offering complimentary tickets to all active and reserve members of the armed forces along with police, firefighters, and first responders. This year, Heroes Day also falls on the 20th anniversary of September 11, making the occasion even more meaningful.
Tentative plans for Heroes Day include a football-field-sized American flag for the national anthem, which will be presented by the UK Air Force ROTC and UK Army ROTC, recognition of personnel throughout the game, and military VIPs in attendance. The Wildcat Marching Band will also perform at halftime accompanied by pyrotechnics, paying special tribute to the military.
For more information on Heroes Day, visit UKathletics.com/GovX.
Remembering September 11
At the end of today's press conference, Mark Stoops was asked to reflect on September 11 ahead of Saturday's anniversary.
"I know exactly where I was," Stoops said. "We were getting ready to play. I was with the [Miami] Hurricanes and I was in my office. One of the [graduate assistants] or quality control coaches at the time was in their offices breaking down film and saw it happen. We were in there in a defensive meeting and obviously went over to his office, all of us, and watched it.
"We saw the other plane hit as we were watching and obviously, just shock at that point in time. Shock and a lot of different reactions. Sad. Angry. Disappointed. I think after a short amount of time, we knew we weren't going to play a football game that Saturday."
The post Mark Stoops challenges fans to pack Kroger Field for Missouri game appeared first on On3.