Unlike most Americans, Mark Stoops spent his Labor Day at work. He spoke to the media for about 30 minutes Monday afternoon. During the conversation he talked about the play of eight different Wildcats. Here's what he had to say.
Will Levis
The Kentucky quarterback was impressive, throwing for four touchdowns and 367 yards in his debut, but there is still room for improvement.
"I think the obvious thing is ball placement on certain throws. That's always the case. No one is going to play perfect. You're going to strive for perfection but that's pretty hard to do," Stoops said.
"Will missed a couple throws. It was just a couple slightly in front, maybe a couple slightly behind. The operation was good, a few things he can do better reading it. There's always things to improve on but he did many good things, but accuracy and maybe a little bit of a touch on things that he's going to continue to work on and he'll get better. I am not at all concerned. I have a lot of confidence in him and game reps are going to help him improve in a lot of areas."
Dare Rosenthal
In his first career game as a Wildcat, the left tackle received an exceptional 75.1 grade from Pro Football Focus on 55 snaps.
"He played better, more consistently, strained more to playing to our expectations, and his own. He did some good things and there's a lot to build on from there. Again, we're looking for the consistency, the consistency and effort and physicality. He showed that in the first game and we want to continue to see that."
Yusuf Corker
"A lot of people don't talk about Yusuf that much," Stoops said. "Yusuf is just one of those guys that has so many plays under his belt. He's gotten so much better because of the work he's put into it. His coaches have done a nice job with him. You just have to love him.
"He's one of those guys — like a lot of guys you've heard me talk about, I hate to just single out one because we have a lot of them, but one that jumps out is Jamin (Davis) — that he came to work every day, just every day tried to get better. He did his job, led himself, but obviously had influence on others. I always talk about leadership, lead yourself first. They're one of those guys that always seem to do the right thing every day and have an influence over their position group and ultimately over the team. Yusuf is a lot like that."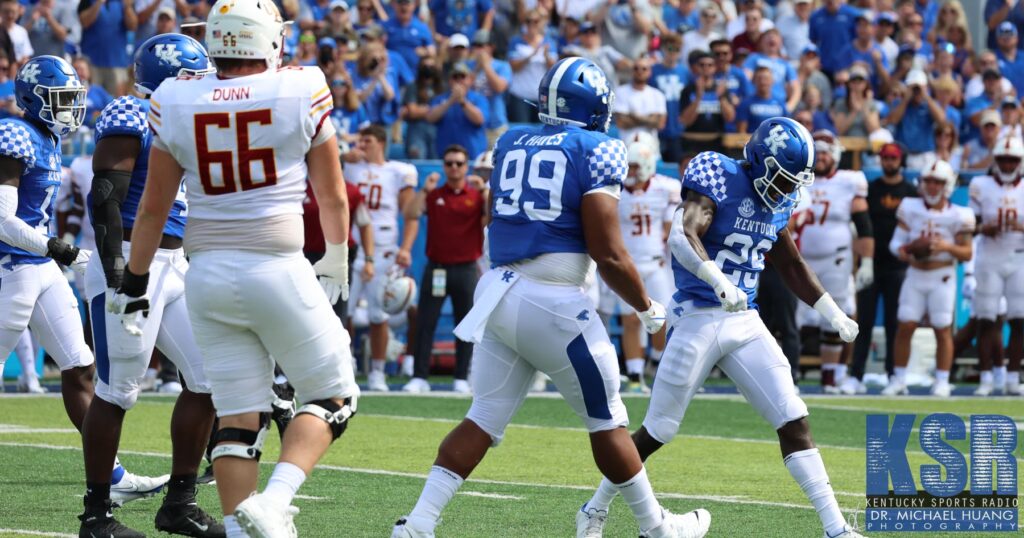 Octavious Oxendine
The redshirt freshman defensive tackle from North Hardin had five tackles and one TFL on SAturday, including a furious flurry of three in one series that forced a ULM punt.
"Octavious did a really good job.  I thought he played faster than he has in the past.  He's worked hard in the offseason. He took to the coaching.  He escaped and played fast and played with great energy. I was excited about that."
Wilson Berry
The Australian punter averaged 35.5 yards in two punts after missing some of the preseason with a nagging back injury.
"We've got to get him back to where he can feel good during the week," said Stoops. "It's probably like a lot of sports, when you do the same thing over and over again, he kind of put a little pressure on parts of his back that we need to get calmed down and get him comfortable where he can prepare like he normally would. It's probably from the same repetition and over-kicking a little bit."
J.J. Weaver
The edge defender did not play for long, but he did make a significant impact, recording two sacks in his return. Stoops is happy to see Weaver back in action, but unsure how much we will play Saturday.
"I'm very pleased with J.J.  No setbacks, he felt good, he's getting confidence, and we'll see where we go from here. We'll see how the week goes."
Mike Drennen
A man named Donut scored his first career touchdown in clean-up duty, but that wasn't the only time he saw action. The former wide receiver was split out and put in motion multiple times early in the game. He could do a lot of things to keep defenses on their toes this fall.
"(He's) Another one. He could be one of those dynamic guys," Stoops said. "He's got some top end (speed), he's got some wiggle and could make people miss in the open field. But Michael, it was nice to see him also get some tough yards, get the ball in the end zone, becoming a complete back. I think it's going to be a good switch for him and for us."
Davonte Robinson
The Super Senior defensive back from Lexington opened his season with six tackles, including one TFL.
"I was pleased with Davonte. He really kind of got back to where he was a couple years ago, you know with the injury. He really did a good job and we needed him to. It is a key position for us and he did some good things."
Complete Transcript
Enjoy everything else Stoops had to say during his Monday press conference. You can also simply watch all of the action unfold too.
Opening statement …
"After reviewing the film, much like I said after the game, a lot of good things to build on but a lot of work to do. You always like it that way, it's always much more pleasant to go to work after a victory, knowing there's a lot of things we can improve on. Once again, very pleased with the many good things that went on. The biggest thing is the effort. I felt like our kids played extremely fast and aggressive and I felt like they were in great shape. Early on it's easy to get cramps and to get winded (when you) play at that type of game speed. Very amped up, first time playing at home in a while playing in front of fans, and so it's easy to overexert yourself or to get winded a little bit and I felt like we were in very good shape. The guys were very strong and could have played many more snaps which was good, and they played very aggressive. So, we made mistakes, but we made them going very fast. A lot of things to improve on and we're looking forward to getting to work this week. The coaches have been at it since yesterday morning and players will be back this afternoon. We will watch this film, get some things corrected and can't wait to get started on Missouri. You know it's going to be a big game at home. We're looking forward to it, looking forward to a packed house, we're going to need it. It's going to be a big challenge.  They did an excellent job against us a year ago. We have a lot of things to improve on to play them, to beat this team. And, got a lot of respect for Coach Drinkwitz and what Eli does and the way he runs his program, very good team, making a lot of improvement. We're going to have to play a lot better here this week to beat them."
On how pleased he was on the large margin of score…
"It's always helpful to get those guys reps and to work on, like I said, I don't mean this in any disrespect. We're just working on us. We have to get better in a lot of areas and working hard. That's what's fun for us to go out there and to perform well and to play guys. Sometimes the games have a tendency to get sloppy and leave bad taste in your mouth if you're ahead by a bunch and put some other guys in and make some mistakes towards the end of the game and things of that nature. We certainly had some plays to clean up but overall was pleased with the young guys and you could see their talent and you could see … it was fun to play a lot of guys because they worked very hard."
On Missouri's physicality in last year's game … 
"I think your observations are very fair and correct. I didn't like the way we were … they played more physical than us a year ago. That is uncharacteristic and I don't particularly like that and so we need to be much more physical this year."
On excellence he saw in the first game…
"There were excellent pieces. There were some very good pieces but consistency is what we're looking for."
On what he sees from new Missouri defensive coordinator Steve Wilks, given his NFL background …
"They're aggressive. They were heavy dose of man coverage in this first game and very aggressive bunch of guys at the line of scrimmage, so we're going to have to win some one-on- ones. That's for sure. We have to play physical and we're going to have to win some one-on-one battles but very aggressive defense, very much crowding the line of scrimmage. We got to beat some man coverage."
On Isaiah Epps making plays following his recovery from injuries…
"No doubt, very happy for Isaiah. Just the fact that he has persevered through some really tough times and really worked hard and a lot of rehab. I'm sure for him some frustration along the way and a credit to our doctor staying with it and finding reasons why it wasn't healing up and getting his foot rectified, getting it fixed. I'm happy for him and obviously he helps us and that was a really nice play, believe it was on the third down, and the fact that he was really running and the fact that Will took that shot and saw it and had the vision to see it and the arm strength to get it out there in a cover-two defense to the field. That's rare."
On success in play-action and improvement in the passing game this past Saturday …
"That's no big mystery. Can I call you Captain Obvious? (laughter) Yeah, no disrespect. No question that one goes with the other. It was aggravating, and well documented. I really don't want to go back to it any more. When you can run the ball like we have, we have to be able to hit the ball down the field."
On Beau Allen's pass to Jordan Dingle…
"First thing is, I'm not throwing anyone under the bus but his best bud and roommate owes him a pizza or something. Cause his boy whiffed, and got him hit right in the face. He hung in there and threw a great ball, and knew he was going to get hit. It was a great catch by Dingle, it was fun to see those guys make that play."
On the tackles for loss vs. ULM …
"That's always a starting point with me with both sides of the line of scrimmage. I've said that since day one, you've heard me say that 100 times in these press conferences. Actually, 101 now, right? (laughter) It's a line of scrimmage game, and we've got to continue to get better. I really like the effort that they played with. We made some mistakes. We made some penalties and some things that are very aggravating. But we made them going extremely fast and playing extremely hard. It was never for a lack of effort. That's one thing that was obvious when I put on that film, was the effort and our guys really trying to play aggressive and play fundamentally sound. Again, there's many mistakes, but there's a lot to build on. We need to play with that mentally, and we certainly need to play with it this week. As it was just pointed out in here, this team (Missouri) was more physical than us a year ago, and we don't like to play that way."
On if he senses that the Missouri series has become a big rivalry …
"I sense that they were much more prepared to play last year than we were. That's on me. I can promise you that's not going to happen again."
On being surprised at how calm Stoops was on the sidelines …
"That's thanks to a perception that you guys put on me. (laughter) I don't ever do that. Show me a coach in America that doesn't at some point or another (get emotional). Listen, I pride myself in it, and I coach my way through it. Believe me, it's been nine years. I told you, I talk to people, I need psychologists, I need people to help me be prepared for all situations. Over time, I don't think I've ever … I've prided myself on keeping my composure and keeping things in control. Am I perfect, no. Maybe you are, I'm not. You know what I mean? We always try to get better as well."
Identifying with the challenges of Eli Drinkwitz being in his second year as a head coach …
"Eli and I have built a friendship and I like him. He kicked our butt (last season). He kicked our butt. I'm not going to forget. That's on my mind. He had his team more prepared than I was. Maybe he'll have some compassion for me."
On if this is one of those weeks of practice that you have to say 'whoa' instead of 'giddyup' …
"I want us excited about our preparation but steady.  Our team's at its best when it's businesslike but having that sharp focus because you have to do this all year long.  You have to be at the same level every day, all the time, no matter who you're playing. Not too high, not too low but sharp in your preparation. As I've said again 100 times, everybody wants to play on Saturday.  How excited and motivated are people going to be on Monday, Tuesday, Wednesday?  Maybe it's hot out there, maybe you're beat up.  We going to have physical practices, are they going to prepare through the week? That's always the message and the challenge."
On if it is true that Max Duffy almost ran over you at a Starbuck's …
"You know, I gotta listen to this podcast. (laughter) I'm going to have a talk with Max.  There's some things that are between he and I (laughter) and he's sharing to the world.  I think he's a bit of a storyteller, so I'm going to have a talk with him. I'm going to jump on his podcast and straighten him out a little bit." (laughter)
On challenge of Missouri quarterback Connor Bazelak …
"Connor's a very good player that we know very well, we have great respect for him. He came in last year and did a remarkable job.  I thought he was extremely poised.  He has that ability to create space when he needs to, keeping his eyes down the field and extending plays. He's one of those guys that are very good and aggravating to a defense.  Does what he has to do, whether he has to scramble, buy time, moving the pocket, scramble for a first down. You name it, he'll do what he has to do, very good player."
On UK having recruiting Bazelak and did he turn out as Stoops expected …
"No question, he's a very good player.  Very efficient, he's very good with this offense, They do a very good job, they're creative.  Lot like us in some ways, where they use a lot of motion, shifts, personnel groupings. They maybe use some trick plays to create big plays for them a little more than us.  They're also like us, their shots are max protected.  They get good protection when they're taking shots down the field.  It's hard to get there (to the QB).  Lot of big plays happen on first and second down, picking their time to take shots and get the ball down the field.  They're very efficient."
On the offensive line and new run blocking system …
"I felt like a lot of years, there's a lot of good, there's a lot of things to build on, a lot to clean up.  We always wish we can perform a touch better.  It's like that, finishing blocks, staying on guys longer. I tell you this, I liked the way we were physical and tried to be physical.  There were some yards out there that we left on the field, with some cuts, too, that we have to see better.  I'd like to believe it's because of the way we're running the ball right now. Our vision was better when everything was inside and downhill. It's a little different when we're teaching outside, outside, outside. And then, there's certain plays where they have to see it and there's big runs (on the) back side. But that's a running back's job.  You don't know where it's going to hit on certain plays.  Obviously, Chris is Chris (Rodriguez).  He runs hard and physical and very talented player.  All of our backs are but there's some yards we left on the field in the run game."
On if there is anything about Missouri that surprises him or doesn't surprise him…
"No, they're what you would expect; they're good, they play hard, they're a well-coached football team. And you know, that's where it starts, with guys in the right position, they play the game the way it's supposed to be played, they play it very physical, and play very hard. They do a good job. They keep you off balance, they certainly did a year ago. They had a lot of drives a year ago, they worked for them. Again, I hate to go back too much on that. They had 20 points, but it felt like 40 by the way they controlled the ball. A lot of third (down)-and-manageables, and then some fourths that they converted. So, we just got to do a better job."
"It was great to get home last week, whatever time we play. I appreciate the fans being there. It was warm, but at least it was decent and I appreciate the people being there. It's going to be a night game (Saturday), so no excuses, we need this place packed. And I'm looking forward to it."
On what he saw from Monroe …
"I think Monroe, what I had a pretty good idea of going into it was that Coach (Terry Bowden) was going to have them fundamentally just trying to play the game the right way. Not much different than the situation I came into in year one (2013). I went through phases where you're trying to win, so sometimes you're throwing things at the wall. But ultimately you have to just become a better football team fundamentally. So, that's what I saw. I saw a team that was well coached, that was just trying to do things the right way on all sides, and they were. They were well coached, they were in position, but it also gives us a clean look, so that was good for us in that way. Certainly with them being in year one, we obviously had better personnel in, but it gave us clean looks, and that was really good for us to work on ourselves. And that's what I figured they would be. That's kind of what you have to do when you're taking over a program like that; just fundamentally teaching those guys how to play the game. And you certainly saw a lot of plays in there where they did things very good."
On if he's physically tracking rushes, passes, and overall balance in his mind throughout the game…
"Funny story about that. We were in our staff meeting after that and Liam (Coen) told me that (rush and pass attempts were nearly equal) and I said, 'Really? It felt like 90% pass to me.' (laughter) It just goes to show you where our mindset has been. I mean that, it's a true story. I was like 'Wow!' No, we weren't trying to track that on paper. That's just the way he calls plays and that's what we talked about, that's what you want to be. But to be exactly in play counts, run and pass 50/50, are we looking for that every week? At the end of the day, no. We're looking to win the game and do, as (Iowa coach) Hayden Fry used to say, scratch where it itches."
On if he was surprised how well the offense operated procedurally vs. ULM …
"I wasn't surprised because I've seen that.  You've heard me talk about procedure a lot.  It was different for y'all to see a huddle, right?  And us to break the huddle, get to the line of scrimmage, shift, motion, again (it was) clean. We've been that way.  The guys have worked hard.  The coaches have worked hard, our players have worked hard. That's good.  From a defensive perspective, you're breaking the huddle, you're getting to the line of scrimmage fast, there's motions, there's shifts, it's hard to get locked in. When you're at the line of scrimmage, even those guys that try to go fast but watch it from there, defensive guys, you see whether it's two-by-two or three-by-one. You get a bead on it sometimes, not to say that it's easy, because it's not, depending on the personnel. Lot of it comes down to personnel.  Anyway, I like the procedure and I like the way we're getting in and out of the huddle and running the offense. We have to continue to build on it and get better. The one snap issue we had, I was getting down there to call the timeout, was walking down to call it, but it was on first sound and the minute Luke (Fortner) heard something, he snapped it.  Things like that, we'll continue to work on."
On the fans being pleased with the passing offense …
"I want to give the fans victories or you'll be talking to a new guy up here.  That's the big thing, to still get victories. I do understand the importance of it.  I like it, too. It's a matter of what you can do, what you can do well.  I want to win.  I want to do what we can do good.  You would be talking to somebody else if I had just sat there and said, 'Drop back pass, throw the ball,' and we didn't get good at anything.  We did things necessary to win games.  Do I wish we had won a few more or had a little more balance?  Of course, I'm always striving to be the best we can be. That's still the case, by any means necessary.  However, again, any team that is one-dimensional one way or the other, does not present as many problems as the teams that can do both.  That's just a fact."
On the team's excellence in the first game … 
"You're not going to get me to say that. That's your words.  I'm not going to say it, we have a lot of good things to build on.  We're not excellent yet.  We're striving for it." 
Reflections on the 20th anniversary of September 9, 2011 …
"I know exactly where I was.  We were getting ready to play.  I was with the (Miami) Hurricanes.  I was in my office.  One of the GAs (graduate assistant coaches) or quality control coaches were in their office breaking down film and saw it happen.  We were in the defensive meeting and went over to his office, all of us, and watched it and then we saw the other plane hit as we were watching it.  Obviously, I think just shock at that point in time.  Shock and a lot of different reactions – sad, angry, disappointed.  I think after a short amount of time we knew we were not going to play a football game that Saturday."
The post Mark Stoops Shines Spotlight on 8 Wildcats Following ULM Win appeared first on On3.