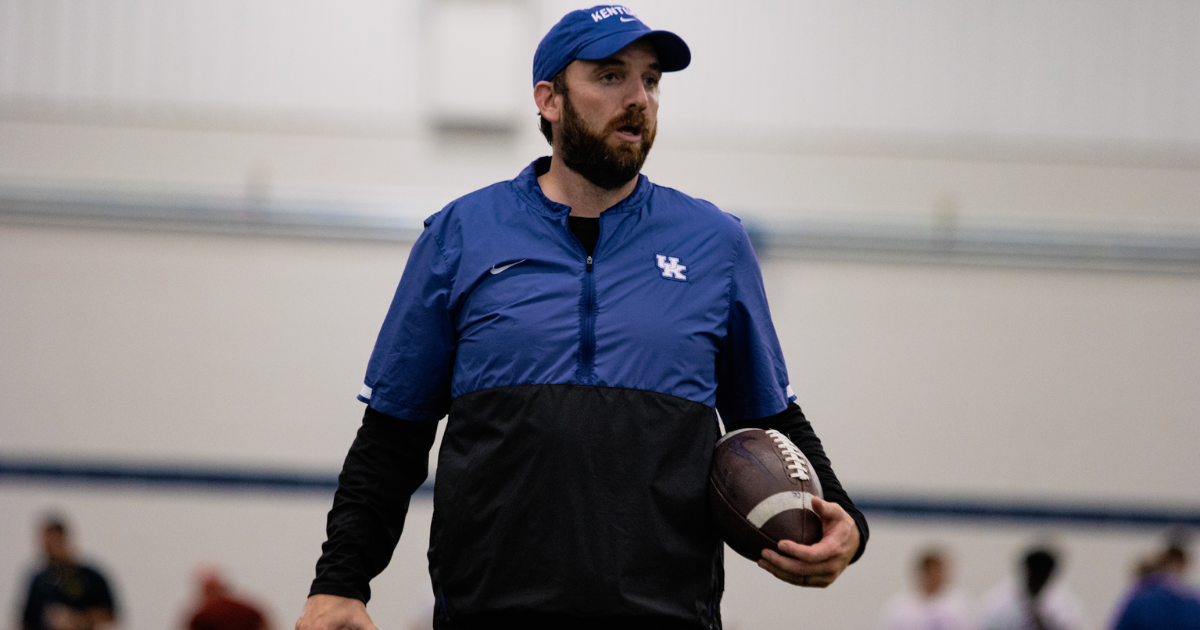 When Liam Coen needs somebody to lean on, Scott Woodward is there. Best friends for more than a decade, the new UK wide receivers coach is giving Coen an extra set of eyes from atop Kroger Field and it's already paying dividends.
Woodward received a call from Coen before Liam left Los Angeles. Without a moment's hesitation, Woodward was ready to pick up and move to Lexington. Initially brought on as a quality control analyst, he was elevated to wide receivers coach following Jovon Bouknight's DUI arrest.
Describing Woodward as a "wide receivers coach" does not truly define his role at Kentucky. This fall he will do so much more than work with the Wildcats' pass-catchers.
Origins of Coen and Woodward's Relationship
Coen and Woodward first met in Amherst as promising young UMass quarterbacks. Woodward backed up Coen, who threw for more than 3,000 yards and led the Minutemen to the 2006 FCS National Championship Game.
"Coach Coen and I have been pretty much best friends since 2005. He was the best man in my wedding. We're pretty close," Scott Woodward told KSR. "I went out to LA and visited him every chance that I could."
Once they completed undergrad, their paths crossed as coaches. In 2017 Woodward was the quarterbacks coach at UMass and Coen called plays for Maine.
"We were playing in the game at Fenway against each other and he went for two against us and it was a little trick play. Next thing you know the phone in my pocket buzzes, I look at it and it's just him saying, 'Haha.' That's kind of how it is. We're just close," said Woodward.
Trusted Eyes in the Sky
Now reunited in Lexington, Liam Coen leans on 'Woody's' perspective from the pressbox.
"He basically relies on me for his eyes in the sky," said Woodward. "We have a good enough, long-lasting relationship that he trusts everything I say. Basically, my job is if we run plays and we have a look for something else, or there's something else that's not going to work, I gotta let him know. He counts on me for that."
In the first game of the season, a ULM cornerback caught Woodward's eye. On an early play-action pass, the defensive back played Josh Ali with outside leverage. Woodward told Coen through the headset that the post is open for the taking.
"That was not on our game plan," Coen said. "That came from up top, from the guys up top that saw something from the previous drive when we threw the deep curl to Ali, and that came from up top. We didn't have that play in the game plan and our guys went out and executed it at a high level."
The result of the play: a 58-yard touchdown.
Dynamic Offense
There is a lot to love about Liam Coen's offense: the vertical pass game, multiple formations, use of the tight ends, play-action pass, etc. It's difficult to discern just how great it is against a winless ULM team. What we did learn on Saturday is that Coen will "scratch where it itches."
If the running game is plowing over defenders, they will keep it on the ground. If Levis is dropping bombs, they will keep pulling the pin on deep balls. Coen will get all of the credit, but behind those decisions are Scott Woodward's two eyes in the sky.
"What you saw Saturday is Kentucky football."
The post Meet Scott Woodward, Liam Coen's Eyes in the Sky appeared first on On3.