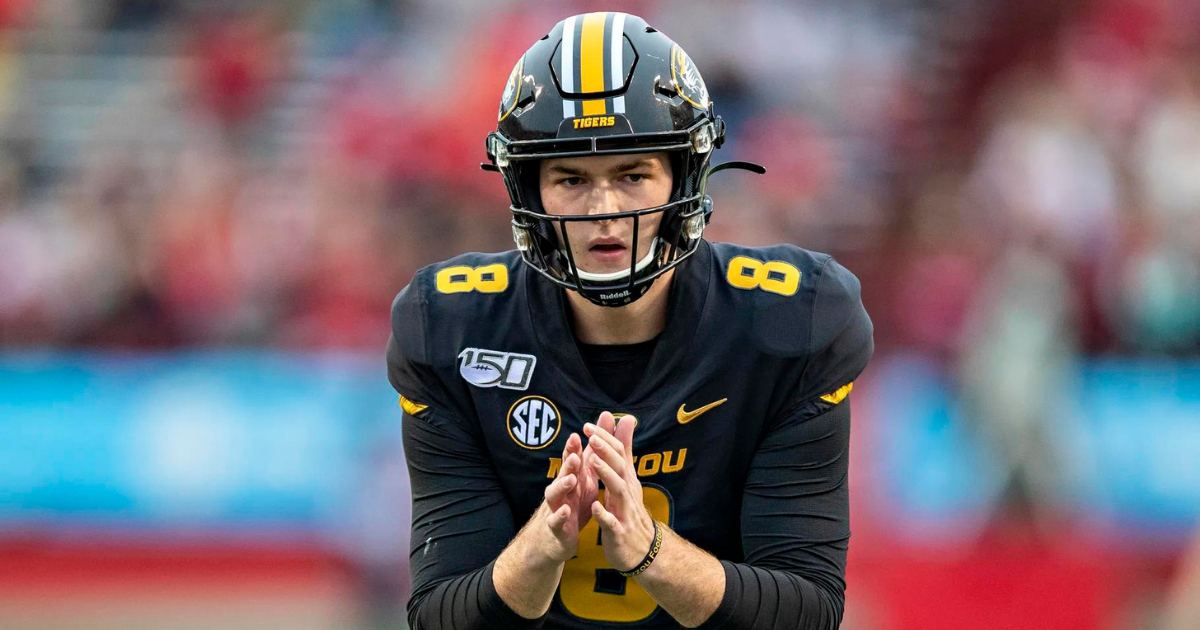 As Mark Stoops watches tape to prepare for a date with Missouri, sometimes he can see a mirror image. Other times the Tigers play a completely opposite style of Kentucky. Eli Drinkwitz's creative offense is now complemented by Steve Wilks' aggressive defense, a combustible combination.
Missouri opened the 2021 season with a 34-24 win over Central Michigan. The Chips led 14-7 in the first quarter and trailed by only three in the fourth before Missouri pulled away. Drinkwitz's offense is not so different than a year ago, but there are some new faces on the field.
The Bazelak and Badie Show
Larry Rountree is gone. Now Tyler Badie is stealing the show from the running back position. An explosive rusher, he picked up 203 yards and a touchdown on 25 carries in week one. Similar to Kentucky, the rushing game's success sets up Missouri's passing game.
"They're creative, a lot like us in some ways where they use a lot of motion, shifts, personnel groupings." Stoops said, "They maybe use some trick plays to create big plays a little more than us, but they 're also like us in their shots are max protected. They get good protection when they are taking shots down the field. It's hard to get there. A lot of big plays happen on first, second down. Picking their time to take their shots and get the ball down the field, they're very efficient."
Led by quarterback Connor Bazelak, the redshirt sophomore and former UK recruiting target does a little bit of everything for Missouri. As a true freshman he finished fourth in the SEC in passing yards per game, averaged 7.3 yards per attempt and completed 67.3% of his passes. However, you can't see on a stat sheet what he does best.
"Connor is a very good player we know very well," said Stoops. "I have great respect for him. He came in last year and just did a remarkable job. I thought he was extremely poised. He has that ability to create space when he needs to and keep his eyes down the field, extending plays. He's one of those guys that is very good at aggravating the defense, he does what he has to. If he has to scramble to buy time, move in the pocket, scramble for a first down, you name it, he'll do what he has to do."
Wilks' Aggressive Defense
Drinkwitz brought a former NFL head coach to call his defense in 2021. Steve Wilks coached the Arizona Cardinals to a 3-13 record in 2018. That year Liam Coen was on the L.A. Rams' staff that outscored Arizona 65-9. The two are well aware of what one another brings to the table.
"They're aggressive. They were a heavy dose of man coverage in this first game and very aggressive, a bunch of guys at the line of scrimmage, so we're going to have to win some one-on-ones, that's for sure," Stoops said Monday.
That quote probably does not accurately depict just how aggressive Wilks is, the exact opposite of Stoops' defensive philosophy. Against CMU the Missouri defense brought six rushers on almost every play after the first quarter. Defenders crowded the box and dared the Chips to beat them on the outside in a high-risk, high-reward scheme.
The Tigers sacked the quarterback nine times and had 14 tackles for loss, the most in the SEC. But Missouri gave up 21 plays of 10+ yards and eight plays of 20+ yards, the most in the SEC.
Missouri's defense is playing with dynamite. If the Big Blue Wall can provide protection when Coen times up his shots, the Kentucky offense could blow up at Kroger Field Saturday night.
The post Missouri brings aggressive defense, creative offense to Kroger Field appeared first on On3.