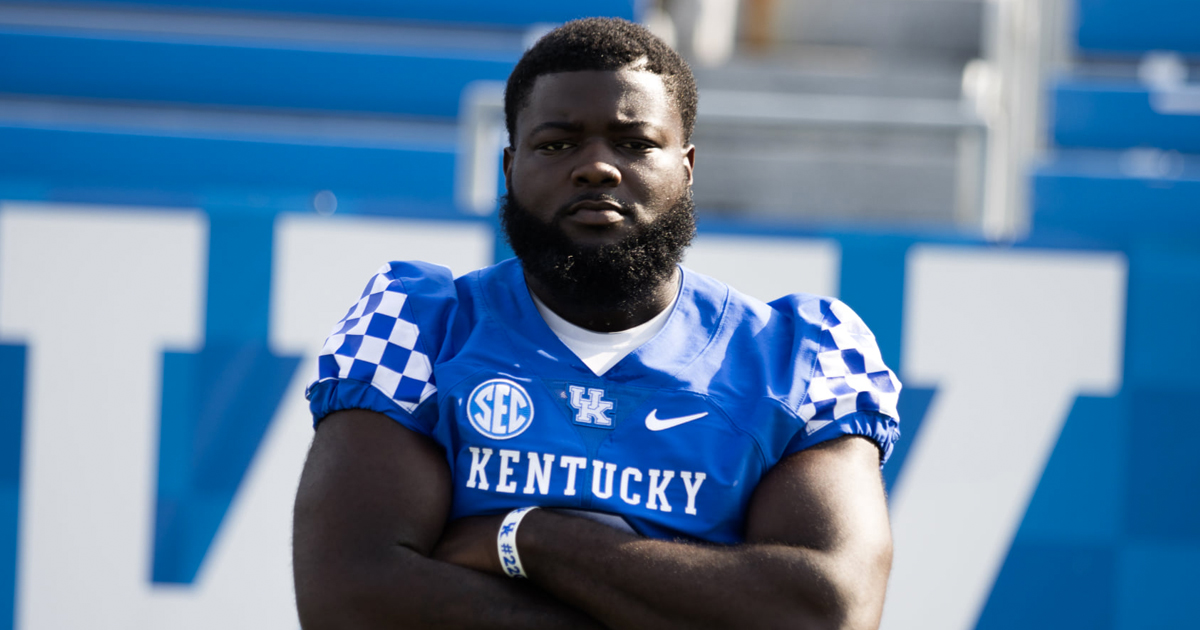 Kentucky sophomore defensive tackle Octavious Oxendine was one of the breakout stars in the season opener against ULM this past Saturday. The former North Hardin H.S. star made his debut on Kentucky's second defensive stand, subbing in for starter Abule Abadi-Fitzgerald from the second DT spot on the depth chart.
His impact was immediate.
On his first play of the year, Oxendine stuffed ULM running back Andrew Henry inside for a one-yard gain on first down. On second down, he ran down wide receiver Jared Sparks to blow up a screen pass for a one-yard gain. Then on 3rd-and-8, Big Ox again held ULM's offense to only a yard, this time by swallowing up Rhett Rodriguez on the QB draw.
"Oxendine on all. three. defensive. plays." said the SEC Network broadcast announcer.
"I didn't even know I did it."
Oxendine's solo three-and-out caught everyone's attention, but he was so caught up in the moment, he didn't realize he had made three consecutive tackles.
"I didn't even know I did it, honestly, until I got to the sideline and everybody was telling me I made every tackle," he explained to the media after Wednesday's practice. "I was just out there playing football.
"Actually, I was getting help from Marquan next to me, the veteran, helping me out; because it was happening so fast, it was really my first college football game and everything was moving so fast for me. He got me in the right position to make plays."
A long time coming, Oxendine left high school early and enrolled at Kentucky for the spring 2020 semester, only for the world to be turned upsidedown by the pandemic months later. He redshirted last fall in a shortened season limited by restrictions and then played his way onto the two-deep before his first full season of college football this fall.
"It felt good going out there," Oxendine said of the first game. "I feel like it's been a lot of preparation for me, redshirting my freshman year with the COVID year. I feel like I've been working out and playing against my friends for the longest and it's finally good to go out there and play against somebody else."
His position coach, Anwar Stewart, said, "He's really come into his own right now, playing really fast, the game has slowed down for him. I'm really excited for him again this week. It's just one of those things where let's see how many of those back-to-back weeks he can put up because we're waiting on some of these young guys to step up."
It's fair to say Oxendine stepped up in Week 1. He finished with five tackles, one for a loss.
---
The post Octavious Oxendine shined with a one-man 3-and-Out debut appeared first on On3.