Playing college football in the SEC is not for the faint of heart. UK fans know all too well the terror of traveling to Death Valley on a Saturday night, or the endurance required to outlast an army of cowbells in Starkville, Mississippi. But perhaps the scariest sight of all on those harrowing nights is that unholiest of God's creatures, the mascot.
Sure, they can look cute at first. Cuddly, even. But make no mistake: these befeathered beasts are out for blood. And if you're not careful, your next trip to Kroger Field could be your last.
Last year, I went through Kentucky's non-conference basketball schedule and ranked each opponent by "mascot fear factor." Now, I'm doing the same for football. Read on, if you have the courage.
---
Tier One: Not Scary
12. Louisville: Louie the Cardinal
Last time, I gave Louie credit for his cartoonish teeth as a tactical advantage over other mascots. But the more I think about it, he's not scary, just bitter-looking. The inferiority complex is clear in Louie's eyes, and that actually does makes him predictable. This bird may talk smack, but he's no real threat. He's like the Kool-Aid Man's whiny little brother. FEAR FACTOR: 4.0
11. Tennessee: Smokey
It's hard to imagine a less-threatening figurehead than a "volunteer," but Tennessee pulled it off with their bluetick coonhound mascot Smokey. I mean, look at the lil' guy. He's adorable! According to Google, coonhounds can become aggressive when hunting prey (as they are excellent trackers), but I just don't see that coming into play on a football field. I would simply pet him and I feel like we'd be fine. FEAR FACTOR: 4.2
T-9. Georgia and Mississippi State: Uga and Bully
Same deal here. While Georgia and MSU do have potentially threatening costumed mascots, their most famous representatives are these lovable English bulldogs. They do have some snarl to them, as seen when Uga tried to fight Bevo the Steer a few years ago, or when he nearly took a bite out of an Auburn player's crotch. But keep in mind, people have been breeding this aggressiveness out of them for centuries. They're still just puppies. FEAR FACTOR: 4.5
Tier Two: Slightly Scary
8. South Carolina: Cocky
Now we're getting somewhere. Gamecocks are, of course, fighting birds; this gives them a natural edge over other, non-combative mascots when it comes to the gridiron. He also has size on his side. However, this particular mascot does not appear particularly mobile, and to my knowledge roosters can't fly. So he should be easy enough to outrun.
Now if they still used this guy, it would be a different conversation altogether:
But in his current iteration, I'm afraid Cocky just isn't that intimidating. FEAR FACTOR: 5.0
7. Missouri: Truman the Tiger
Tigers are no joke. But like Cocky, you take one look at ol' Truman and it's hard to imagine he's much of a threat. We don't even know if he has teeth! I wouldn't want to make him mad, but still, I get the feeling this guy's more Tigger than Tai Lung. FEAR FACTOR: 5.2
6. Vanderbilt: Mr. Commodore
Here we have our first full-grown adult man mascot, which is never something you want to see (unless of course, it means you're playing Vanderbilt). Mr. Commodore — or "Mr. C." as I'm told he's affectionately known — is a well-trained naval officer with a sparkling 150-year career anchoring the 'Dores school spirit. Watching that much Vandy football is enough to drive any man mad. Plus, he's armed. Do not underestimate this man's desire to kill. FEAR FACTOR: 5.8
Tier Three: Stay Away
5. Louisiana-Monroe: Ace the Warhawk
This may seem high, but I don't think we can discount a bird that is literally bred for war. Ace is big, he's quick, and he is most definitely evil. Do you want this guy dive-bombing you out of nowhere as you approach the end zone? No, no you don't. FEAR FACTOR: 6.5
4. New Mexico State: Pistol Pete
When it comes to mascots, the only thing scarier than a man with a mustache is a man with a mustache and a gun. Pistol Pete is bad news. He's a freewheeling cowboy with a pair of six-shooters and a license to kill! He should be easy enough to defeat if you can disarm him, but good luck going up against the fastest hands east of the Rio Grande. FEAR FACTOR: 6.9
3. Florida: Albert
If UF had stuck with the live alligator of the '60s, they'd be contending for no. 1 on this list. As is, Albert is still pretty fearsome, albeit with felt teeth. As we know, gators are deceptively fast and they WILL bite you when threatened. Big Al is particularly nasty after years of being fed live animals on the sidelines. Beware. FEAR FACTOR: 7.5
2. LSU: Mike the Tiger
Now that's a f***ing tiger. The current iteration of LSU's live mascot, Mike VII, is a Bengal-Siberian tiger mix with razor-sharp teeth and the sweetest lil' face. I mean look at that snout!
But in all seriousness, that face may be the last thing you'll see. Bengal tigers can run up to 40 miles per hour, and fully-grown males weigh nearly 500 pounds. Mike VII recently survived a hurricane, and he's vaccinated to boot. He will f*** you up. FEAR FACTOR: 8.5
Tier Four: RUN
1. Chattanooga: Scrappy Moc
I don't care what you tell me, this bird has bodies in his closet. Just ask this poor kid, who made the mistake of not sharing his candy bar with Scrappy.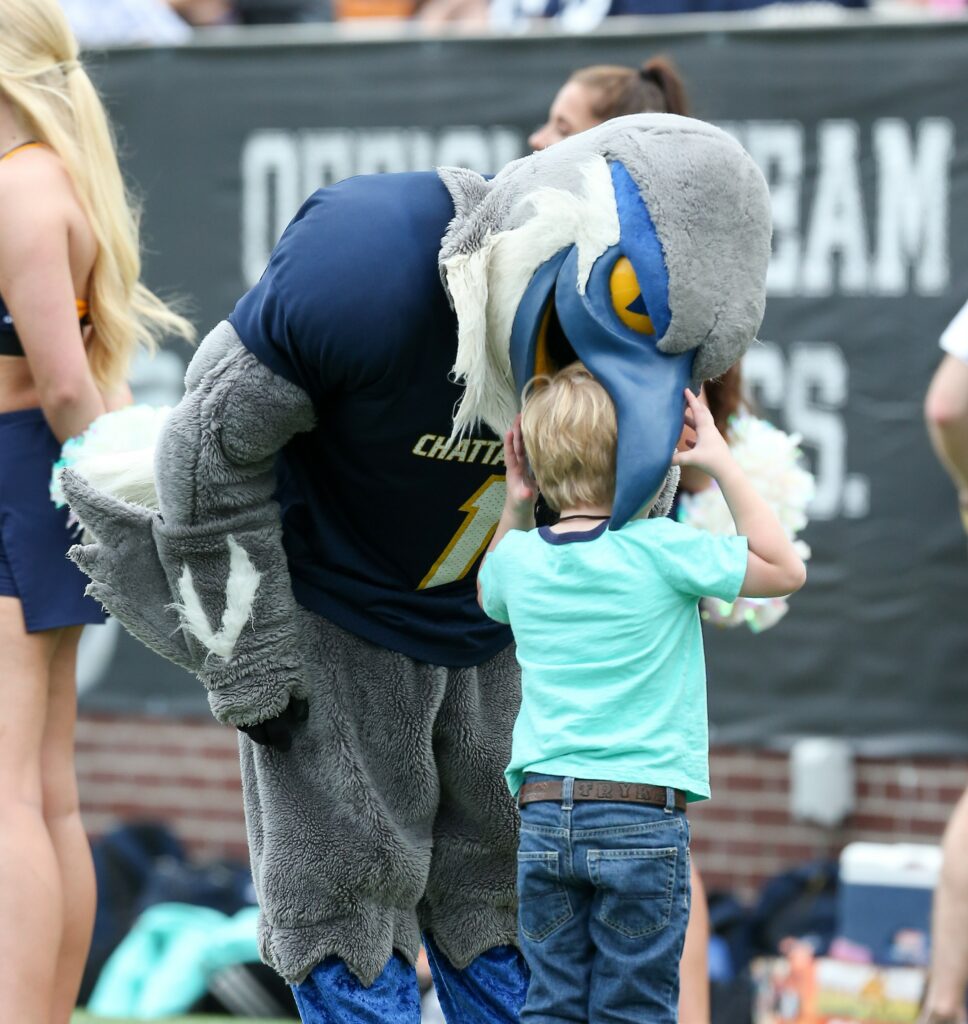 If you get this close, it's too late. FEAR FACTOR: 9.9
The post Ranking the UK Football schedule by Mascot Fear Factor appeared first on On3.