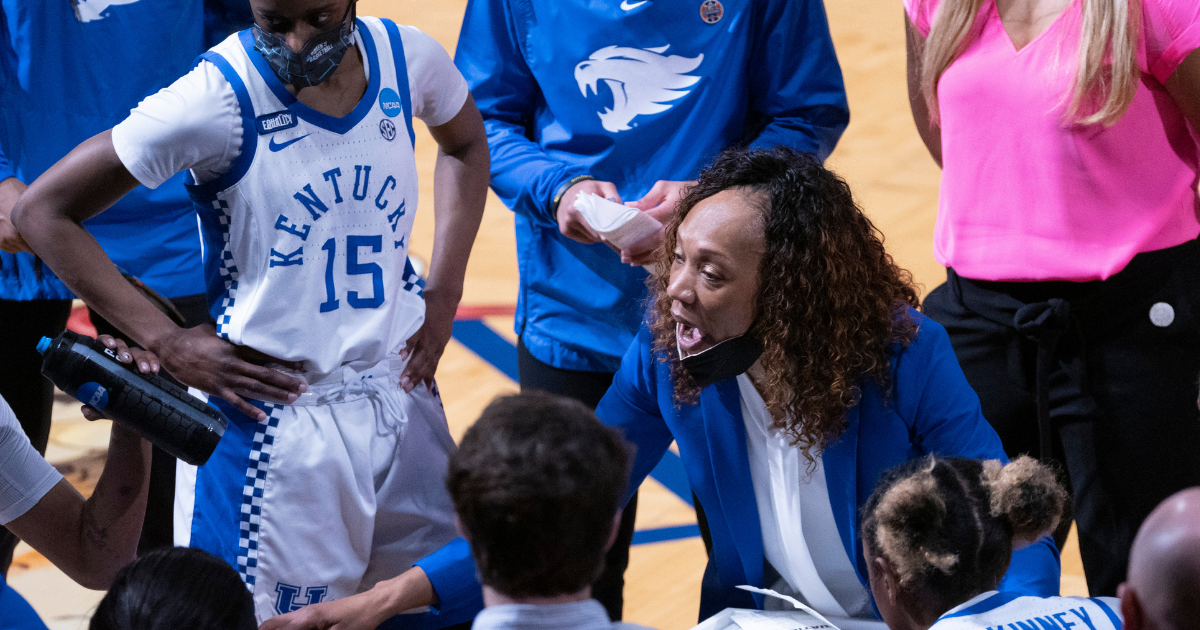 Another year means another chance to fight for NCAA dominance. After a long-anticipated wait, Kentucky Women's Basketball has finally released its schedule. Though it'll undoubtedly be a challenging year, it's shaping up to be equally fun.
Let's dive right into it.
Kentucky Women's Basketball non-conference schedule
Thurs., Nov. 4 Lee University (Exhibition)
Tues., Nov. 9 Presbyterian
Thurs., Nov. 11 North Alabama
Sun., Nov. 14 at Indiana
Sun., Nov. 21 Winthrop University
Sun., Nov. 28 La Salle University
Wed., Dec. 1 West Viriginia University
Sun., Dec. 5 Merrimack College
Thurs., Dec. 9 DePaul University
Sun., Dec. 12 at University of Louisville
Fri., Dec. 17 Morgan State University
Sun., Dec. 19 University of South-Carolina Upstate
First thoughts
The Kentucky WBB non-conference schedule isn't the most brutal string of games, but it doesn't need to be. Realistically, it's an excellent mix of lower-tier teams and serious competition.
In Kyra Elzy's second season as head coach, this non-conference schedule is the perfect warmup for conference play. The squad should build up confidence against teams like Presbyterian College while testing their skills against imposing opponents such as Indiana.
It may not be a torture chamber of a schedule, but it's undeniably demanding. West Virginia, DePaul, Indiana, and Louisville were all ranked at some point last season. With many of these teams returning their core, Kentucky will have their work cut out for them.
By the way, let's discuss that matchup with our favorite little sibling: the University of Louisville. After not competing against the Cardinals last season, the Kentucky Women's Basketball team will take them on for the first time in two years as part of the Jimmy V Classic on ESPN.
In the last contest between the rivals in Dec. 2019, Kentucky fell to Louisville in a heartwrenching 1-point loss. Sadly for the Cardinals, time doesn't heal all wounds. Rhyne Howard, Blair Green and other Kentucky veterans will finally aim to return the pain that Lousiville gave to them two years ago.
The rivalry game will be taking place away, but it's definitely in the minority. Of the 12 non-conference games currently scheduled, only two of them aren't at home. It's safe to say the 'Cats are embracing their sixth man being back at their side.
While this non-conference schedule will be excellent for allowing the team to grow chemistry, it may be even better for the fans. With hardened squads like West Virginia and DePaul playing the 'Cats at home, it'll be a great chance to remind the team why Kentucky fans are the best in the nation.
Kentucky Women's Basketball conference schedule
Thurs., Dec. 30 at Auburn
Mon., Jan. 3 Mississippi State
Thurs., Jan. 6 Georgia
Sun., Jan. 9 at South Carolina
Sun., Jan. 16 at Tennessee
Thurs., Jan. 20 Florida
Sun., Jan. 23 Ole Miss
Thurs., Jan. 27 at Vanderbilt
Sun., Jan. 30 at LSU
Sun., Feb. 6 Texas A&M
Thurs., Feb. 10 South Carolina
Sun., Feb. 13 at Alabama
Thurs., Feb. 17 Vanderbilt
Sun. Feb. 20 at Arkansas
Thurs., Feb. 24 at Missouri
Sun., Feb. 27 Auburn
Let's talk about it
Not too shabby, eh? Not only is the Kentucky Women's Basketball team set to face multiple powerhouse programs such as Texas A&M and South Carolina, but additionally teams that gave them plenty of problems last season.
Specifically, the 'Cats are squared up against five teams that finished in the AP Top 25 in the 2020-2021 season: South Carolina, Texas A&M, Tennessee, Georgia and Arkansas. Thankfully for BBN, half of those contests will be taking place in Memorial Coliseum. The 'Cats will have a chance to topple some of the top teams in the country and, more importantly, do it in front of a blue and white crowd.
Though admittedly, these teams may not all be at the same level they were last year; there could be many other opponents stepping up to take their place.
For example, teams such as Ole Miss gave the Wildcats plenty of problems last season despite never being a highly-regarded group. On the flip side, there are programs such as Alabama that the 'Cats dismantled relatively easily, yet were constantly competing with for SEC ranking.
No matter what SEC team Kentucky Women's Basketball is facing, one thing is sure: the 'Cats will know them and know them well. With six of Kentucky's top eight leaders in minutes returning, the Wildcats are all too knowledgable on the dangers of conference play.
Fortunately for the fans, this means the 'Cats will be coming at their opponents with claws out. Not only will the Kentucky Women's Basketball team be ready to serve up vengeance from last season's shortcomings, but they'll also be ready to deliver an exciting run of conference games to a rowdy Kentucky crowd. You're not going to want to miss it.
The post Reactions to the 2021-22 Kentucky Women's Basketball Schedule appeared first on On3.