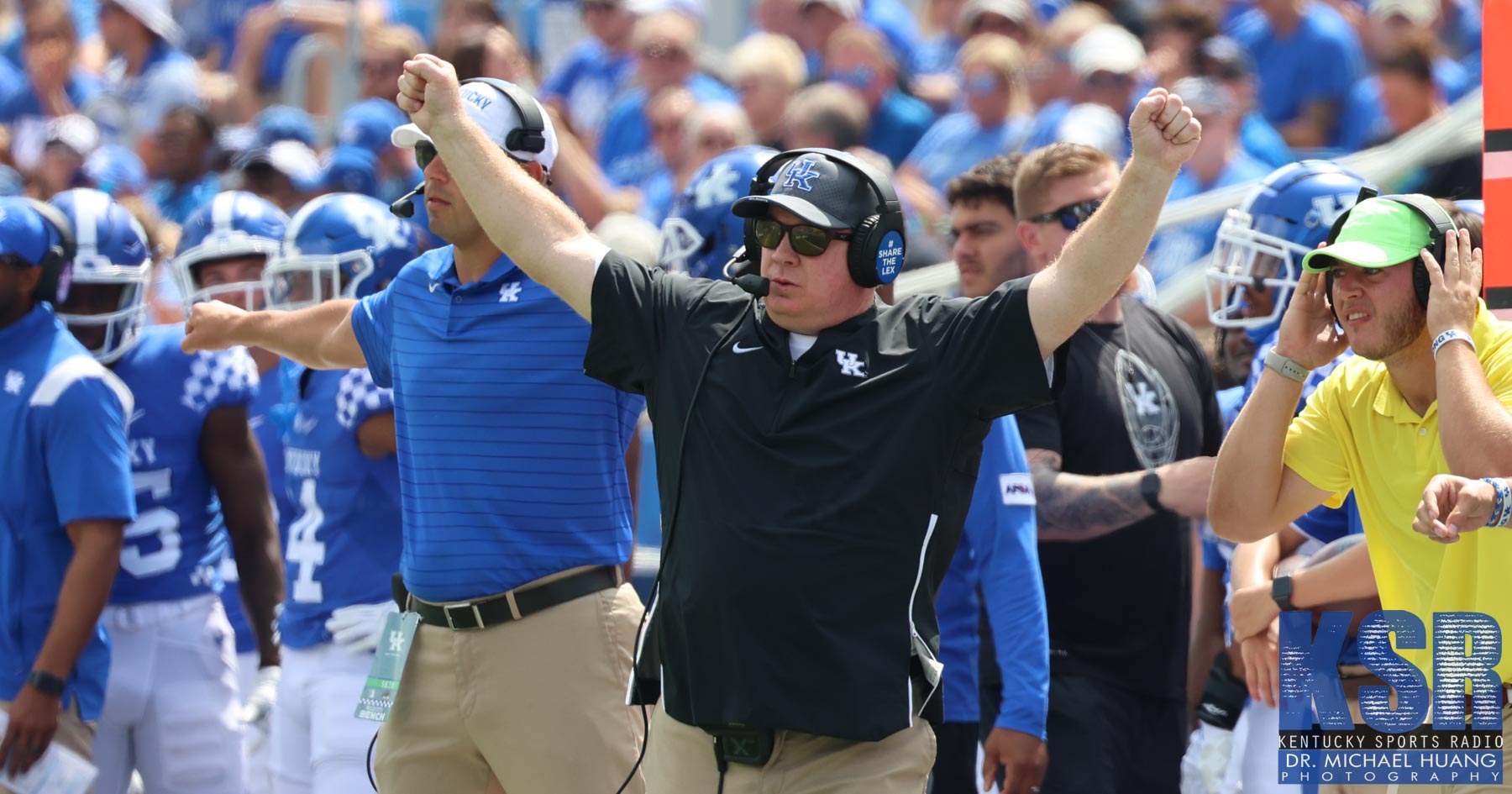 There are a few things that must happen to take the Kentucky football program to the next level. If the Wildcats want to make it to Atlanta, it all starts Saturday night against Missouri. For the long-term future, Mark Stoops wants players to know that Kentucky is all-in on NIL.
Earlier this week Vince Marrow said the Saturday night showdown against Missouri is the biggest game since the Wildcats won at Florida in 2018. Marrow's boss typically prefers to temper expectations, but this game is an exception. Stoops' team must be fired up and ready to play Saturday at Kroger Field.
"Our tempo of things is always the same. No one game is more important than others," an atypically fired up Mark Stoops told reporters Thursday evening.
"The atmosphere, the noise behind it, it's impossible to ignore that, but if you want to play in big games, you gotta take care of the one in front of you. If we want a big game, then we have to play well this week and so on. That's just the truth. You don't play in big games if you don't take of people that's right in front of you."
To prepare for the big game, Kentucky's message in practice has not changed. However, they have cranked up the metaphorical heat during practice to make sure they are ready to play. He liked the intensity the Wildcats brought to practice this week.
"I want to make sure our guys are ready each and every week, and again, that's not always the easiest thing to do, to motivate them every single day to prepare and have that kind of energy and juice," said Stoops. "I know it's easy for fans and media to say, 'well what the heck,' but it doesn't just happen. You don't just show up. You've heard me talk about it a lot, you don't just show up on Saturday and turn it on. You have to have that every day."
All in on NIL's future
The emergence of name, image and likeness has changed the landscape of college athletics. While athletics director Mitch Barnhart has tepidly approached the subject, Mark Stoops has dove in headfirst.
Although the rules state that NIL deals are not supposed to be used to entice recruits, we all know it plays a factor. Stoops believes there is enough support locally to ensure that the Kentucky football program has continued success in the future.
"Without question — it better if we want to continue to operate and continue to build this program. I don't know what I'm allowed to say and not allowed to say. I mean we're stating the obvious if we don't." He added, "I think you all know the importance of it."
Opponents argue that NIL deals could alienate players from one another or serve as a distraction from the primary focus on the field. Stoops has not seen those negative side effects so far, and believes his players have handled their extra side hustles responsibly.
"After a game I'd rather have them sitting there signing autographs than out drinking a few beers," he said. "It doesn't appear to be a distraction right now. Some of the guys who have been doing that are very mature and are handling their business."
The post Stoops: Missouri game, NIL are springboard for bright future appeared first on On3.