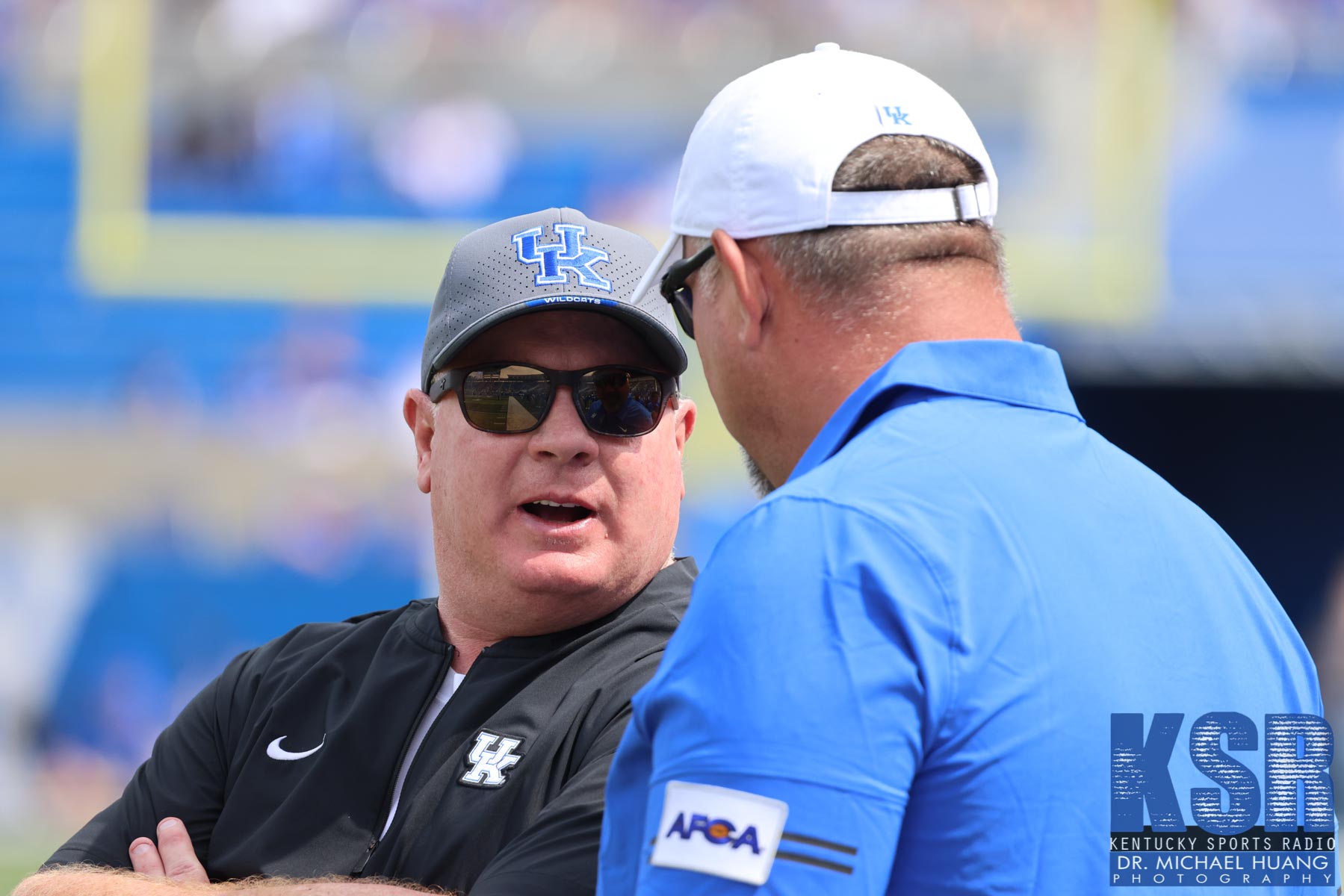 Mark Stoops kicked off the second week of the Kentucky football season by joining SEC This Morning for some football talk with Peter Burns and Chris Doering. Fresh off a 45-10 win over ULM, Kentucky's head coach shared his thoughts on the new-look offense before turning to Missouri.
Surprises on Offense
Kentucky did almost everything right on offense Saturday at Kroger Field. In his first game under center for the Wildcats, Will Levis threw for 367 yards and four touchdowns.
"We were not perfect, there's a lot to clean up, but I thought the procedure was very good with Liam (Coen) calling plays just like I thought he would," Stoops told SEC Network analysts. "I think he dials up plays very good, sets things up very good. He's very confident with the way he plays and the players respond to him."
Stoops brought in Coen to provide more offensive balance. That balanced attack produced 45 points and 564 yards of offense. Stoops was not surprised to see those numbers on the stat sheet, but he was shocked to see that UK actually had more rushing than passing attempts.
"There was a big focus on improving the passing game. Essentially I was saying all offseason, come hell or high water we're going to improve in that area, period. That was evident in game one. I was confident in it from the start to give them the green light," he said.
"When we talked about it afterwards we were pretty close to 50-50 in run-pass plays and that was actually surprising to me. It just goes to show you how heavy we were in my own thoughts in the run game the past several years because when I looked at it, I was feeling like we threw it 80% of the time, but it was really about 50-50. It just goes to show you how the mentality has shifted and the confidence we have in the pass game. We probably could have thrown it a little more."
Excited for Missouri
On to Missouri, the SEC East showdown has season-long implications within the division. Last year's excruciating loss in Columbia is also fresh on the minds of the Big Blue Nation, but payback is not on Mark Stoops' mind.
"I don't use the word payback," Stoops said. "That's just not how we look at things. It's a new year, new season, new game, but it's hard to argue the importance of this game."
Kentucky found a few kinks they need to work out in the win over ULM. The momentum from the win has carried over into the Joe Craft Football Training Facility and the Wildcats are ready to rumble vs. Missouri.
"We couldn't wait to get into the office yesterday and we can't wait to get on the practice field today," Stoops said. "We're ready to go to work."
The post Stoops reflects on pass offense, looks ahead to Missouri appeared first on On3.