There's a lot happening right now around the Big Blue Nation. I could not pick one singular thing to headline this post, so I'm taking a page out of KSR circa 2013 and dedicating it to a birthday boy, LeRoy Neiman.
Born 100 years ago today, Neiman turned iconic sports moments into brilliant watercolors. Simply put, he convinced this young sports junky that art is actually cool. His prints made man caves classy. I saw this one everyday walking toward my basement room.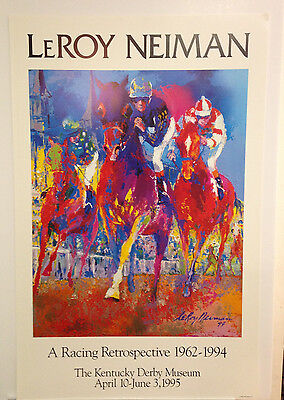 He was on hand to depict the best of the best, so of course he painted the Wildcats a time or two, including  Kentucky's 1978 National Championship team.
From Shaq and Roger Clemons to Michael Jordan and Joe Namath, Neiman's subjects spanned across the sports world until his death in 2012. I think why I admire Neiman so much is simple: the dude loved Kentucky. His most iconic images captured the Kentucky Derby and Muhammad Ali. I could spend all day sifting through his best work, but instead of going through the Google machine, I'll instruct you to see them in person at the Muhammd Ali Center's LeRoy Neiman Gallery. I'll also leave you with my personal favorite.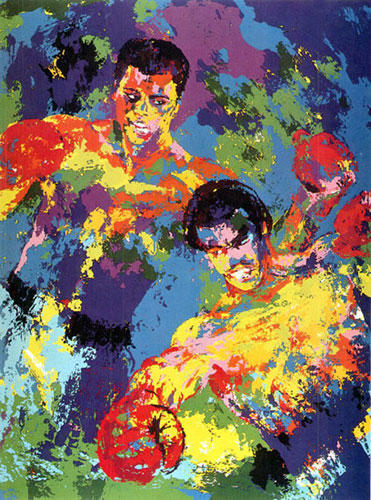 SIGNIFICANT Updates from Vegas
Jack Pilgrim and Zack Geoghegan spent Monday evening speaking to the best basketball recruits in America. Jack learned that Jalen Duren, the No. 1 player in America, will be visiting campus for an official visit in the last week of June. Around that time Keyonte George, a 5-star shooting guard Jai Lucas is recruiting from Texas, will be taking his talents to Lexington. They'll share more from their conversations with the elite talents on KSR throughout the day.
Football Visitors
John Calipari isn't the only one setting up visits. Mark Stoops is filling up his June calendar quickly. Today former Ole Miss linebacker Jacquez Jones is expected to be on campus. If all goes well, Jon Sumrall's linebacker room could soon receive some high quality depth from a proven SEC tackler.
Until we hear more, listen to what Mark Stoops had to say Monday afternoon at the first ever Schlarman Strong, UK Football Alumni Golf Scramble.
New Football Podcasts
It was a busy 48 hours around the Joe Craft Football Training Facility. All of the excitement requires a couple of new podcasts. On the latest edition of 11 Personnel, Adam Luckett and I dove into the nitty gritty of recruiting after attending Kentucky's Sunday Showcase Camp. Later on tonight the KSR Football Podcast crew will reunite after a brief hiatus for some fun shenanigans. Subscribe now to be the first to get each podcast on your listening device ASAP.
Greatest Commitment Graphic Ever?
How does an offensive lineman from Mississippi commit to Mississippi State? By modeling his new uniform while wearing cowboy boots. If the shoe fits, wear it. I'm just surprised Taylor isn't double-fisting cowbells to celebrate the occasion.
Another Suns Win
The Suns stayed hot as Devin Booker scored 21 points and dished out eight assists to propel Phoenix to a 122-105 victory over the Denver Nuggets in game one of the Western Conference Semifinals. The game produced a few more fireworks than the James Harden-less Nets' 126-86 blowout victory over the Bucks. Last night's winners feel like they're destined to meet one another in the Finals. That's still a ways away. Tonight the Hawks take on the Sixers at 7:30 pm ET, followed by the opening game of the Clippers-Jazz series at 10 pm ET. You can watch all of the action on TNT.
KSR is on the Road Again
The Shots Across the Bluegrass Tour is taking its talents to Green County Tuesday morning. You can find the KSR crew and get a COVID-19 vaccine by visiting Longhunter Tea and Coffee in Greensburg. The action begins at 10 am. Don't miss it.