It's an exciting day at KSR headquarters in Lexington because in a few short hours UK associate coach Orlando Antigua will be a special guest on the KSR radio show's first day of guest week. Coach O will join the program to talk about his return to Camelot, where he coached from Calipari's first year with Wall and Cousins through the improbable tournament run with Aaron Harrison in 2014, a span that saw three Final Fours in four years and the 2012 national championship. On today's show Antigua will reminisce on those memories and explain what brought him back home to the Bluegrass.
Here's the entire guest lineup for the week:
Today: Orlando Antigua
Tuesday: Chin Coleman
Wednesday: Vince Marrow
Thursday: Richie Farmer
Friday: Liam Coen
Now for some things to know from the weekend as we begin a new work week…
Coach O and Chin Coleman had their first press conferences on Saturday.
While everyone was out enjoying the nice Mother's Day weekend, UK Basketball held two Saturday morning press conferences to introduce Orlando Antigua and Chin Coleman to the staff. I assume you missed them, so here is a look at both conversations from the new guys.
Coleman's explanation of his nickname is a great glimpse into his personality:
He got here because Coach O sold him on Camelot.
As you can see, there are two major upgrades in assistant coach personalities, and hopefully upgrades in results in due time.
KSR was following UK's signees and TyTy Washington at the Iverson Classic.
Jack Pilgrim and Zack Geoghegan spent the weekend in Memphis where Allen Iverson held his Allen Iverson Roundball Classic featuring several of the top high school basketball stars in America, including UK signees Daimion Collins and Bryce Hopkins, as well as point guard target TyTy Washington. Washington is set to announce his decision on Friday so he was a hot name at the event, and KSR's ace reporters were all over Washington's weekend and the head-turning performances from Collins and Hopkins.
A link dump from KSR's Iverson recruiting coverage:
— 2021 five-star guard TyTy Washington breaks down finalists, upcoming decision with KSR
— TyTy Washington says Bryce Hopkins, Daimion Collins "always in my ear" about Kentucky at Iverson Classic
— Daimion Collins embracing coaching staff changes: "They can help me get to where I want to be"
— Bryce Hopkins says Kentucky has a "good chance" to land TyTy Washington
— Kentucky target TyTy Washington wins 3-point shootout at Iverson Classic
UK Softball earned the No. 6 seed in the SEC Tournament.
Kentucky's softball team will begin its postseason play on Wednesday in the final game of the first full day of the SEC Tournament. Playing as the sixth seed in Tuscaloosa, UK drew No. 11 Georgia in the opening game, set for approximately 7:30 p.m. ET (or 35 minutes following the Tennessee-Texas A&M game) Wednesday evening.
The Cats finished the regular season with a 13-11 record in the SEC, good enough for a tie for fifth place in the standings with LSU, but LSU was awarded the fifth-seed due to a head-to-head tiebreaker.
Good luck to the Cats at Rhoads Stadium.
We will reveal the Kids' Logo Contest winner today.
Running a little behind schedule due to the overwhelming response from entrants, the Kids' Logo Contest will name its winner of the cash prize today. From almost 1,500 logos down to the final two, KSR readers and listeners spent the last week voting on the final poll, and if you come back here later this morning you'll see the winning entry.
OVW's Country Boy Brewing Kentucky Heavyweight Tournament begins this week.
Vince Marrow and Richie Farmer will be guest managers for Shane Mercer and Tony Gunn in the first round of OVW's tournament later this week. You can still fill out your bracket here.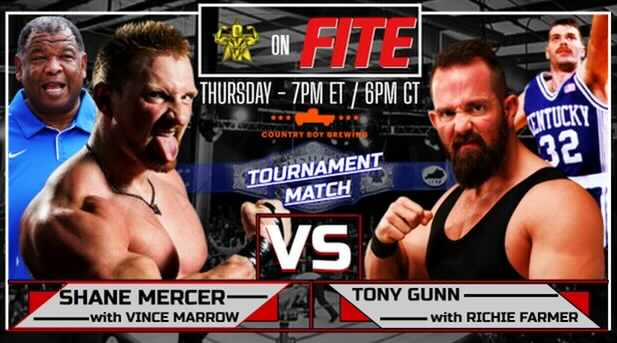 Immanuel Quickley surprised his mother and grandmother with new cars on Mother's Day.
Not to make you feel bad about the gift card you got your mom for Mother's Day, check out what Immanuel Quickley did for his mother and grandmother on Sunday:
Immanuel Quickley surprises mother, grandmother with new cars on Mother's Day
Quickley couldn't be there for the surprise because his Knicks were busy beating the Clippers in Los Angeles. He didn't play because he's nursing a minor injury, but Julius Randle got 14 and 14 and the dagger that clinched the victory:
Julius Randle hits the dagger over PG ?

Knicks win. pic.twitter.com/G7SIRceG51

— Bleacher Report (@BleacherReport) May 9, 2021
Vegas recommendations, anyone?
Now that I'm all shot up with the vaccine sauce and free to do fun things again, I'm sneaking off to Las Vegas next month for some normalcy. However, I haven't been to Vegas since the Malik Monk game, so I'm interested to hear any firsthand accounts or tips from folks who have been to the strip in this new socially-distanced world because I don't know what to expect or how to navigate the waters. Thank you.
Is Bob Baffert a cheater?
The whitest hair in sports is in hot water AGAIN and this time his Kentucky Derby-winning Medina Spirit may have to vacate the roses. Over the weekend news broke that Medina Spirit failed a post-race drug test and Baffert has been suspended from Churchill Downs in a mess of a situation for horse racing.
Whatever happens, it will not change the Derby payouts, which sucks for everyone who will have a winning ticket if Medina Spirit gets thrown out. The bets will stand with Medina Spirit on top, even if Medina Spirit proves to be a cheater.
Don't take performance-enhancing drugs, kids. Don't give them to your Derby horses either.
Go Cats though.