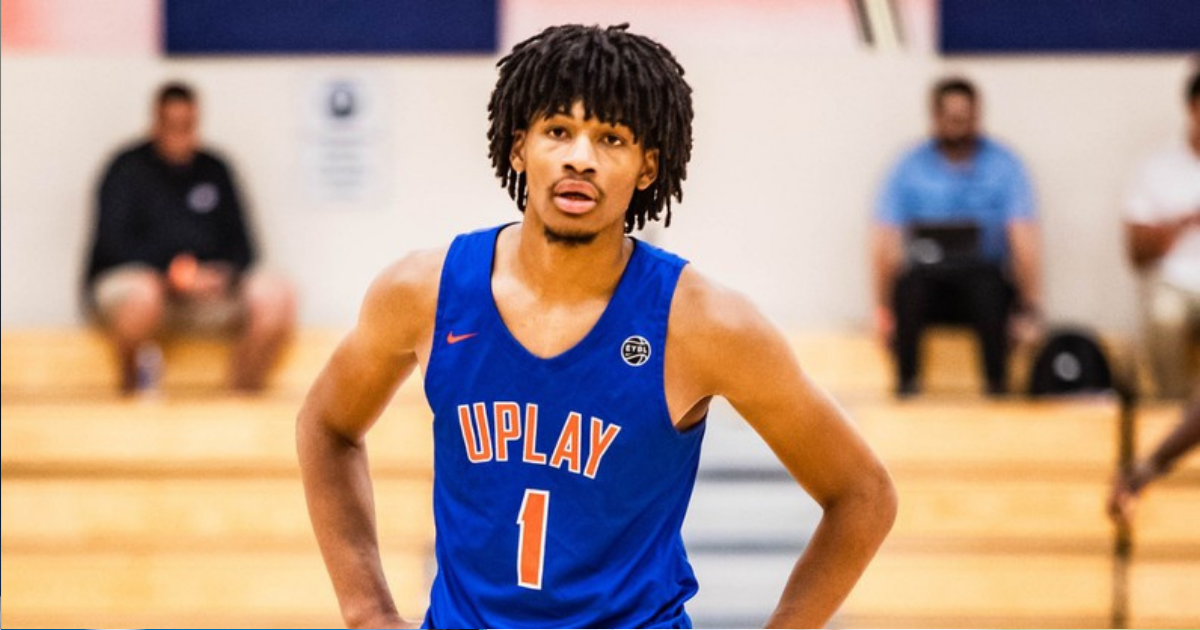 2022 five-star guard Shaedon Sharpe is a Kentucky Wildcat, choosing UK over Arizona, Kansas, Oklahoma State and the G League Ignite, among offers and interest from dozens of other programs.
The 6-foot-5, 185-pound guard announced his commitment Tuesday evening, a game-changing addition for the program. He joins five-star guard Skyy Clark as Kentucky's two pledges in the senior class, giving the Wildcats two top-15 prospects in the backcourt for the 2022-23 season.
Why is this commitment so massive for the program? And what does it mean for UK's recruiting efforts moving forward?
Calipari gets his first No. 1 recruit since 2015
Kentucky has finished with either the No. 1 or No. 2 recruiting class in college basketball every year but one since John Calipari arrived in Lexington. The UK program has clearly dominated the recruiting scene over the years, that's never been up for debate.
Kentucky has, however, struggled to land the guy over the years, specifically in the last six years. Skal Labissiere (2015) was the last No. 1 overall prospect – by at least one service – to sign with UK. Before then, Nerlens Noel was the last to do so in 2012.
And even beyond the No. 1 rated prospect, Kentucky has struggled to land its top recruiting targets, losing out to the likes of Duke, Memphis and the professional route in recent years. Paolo Banchero, Jaden Hardy, Jalen Duren, Cade Cunningham, James Wiseman, RJ Barrett, and Zion Williamson are among the top prospects UK fought hard for, but ultimately came up short.
Sharpe's commitment flips that narrative back and shifts momentum back in Kentucky's favor. Ranked No. 1 overall by On3, Rivals and ESPN, Sharpe becomes Calipari's first top-rated recruit in seven years and fifth overall since arriving in Lexington. The five-star guard joins Labissiere, Noel, Anthony Davis and John Wall as players ranked No. 1 by at least one recruiting service.
For a program looking to get its swagger back following a disappointing 9-16 campaign in 2020-21, you can't do much better than signing the No. 1 overall prospect in high school basketball.
The first of many for UK's revamped staff
Orlando Antigua and Chin Coleman were brought in this offseason to give Kentucky fresh, new blood on the recruiting trail alongside Calipari and Jai Lucas. They helped secure early commitments from TyTy Washington and Sahvir Wheeler, but that was prior to the return of in-person recruiting.
The new staff has been patiently waiting for its big fish to bite, a catch that would immediately shift momentum back in UK's favor. Just months after their first summer together on the recruiting trail, Calipari, Antigua, Coleman and Lucas managed to fight off the competitors – and there were plenty – to secure a commitment.
Will this be a domino effect for other high-profile prospects to follow in Sharpe's footsteps? We'll get to that in a minute.
A professional bucket-getter
Sure, Sharpe's commitment signals a surge of recruiting momentum and solidifies the importance of UK adding Antigua and Coleman to the fold this offseason. That's clear.
But there's a reason Sharpe is listed as the No. 1 prospect in the country: He's an unbelievable basketball player with true star potential.
After a strong spring that resulted in a solid jump in the rankings, Sharpe exploded at Peach Jam, averaging an event-high 22.6 points per game on 48% shooting overall and 36.4% from three in 12 games. During that span, the five-star prospect scored 20 or more points eight times, 25 or more six times and 30 or more points twice. He also averaged 5.8 rebounds and 2.7 assists per contest.
Sharpe is widely considered the most prolific scorer in the class of 2022, boasting true three-level abilities as a knockdown shooter from deep, polished shot-creator in the mid-range, and a strong finisher at the rim. His range is expanding and his ability to heat up quickly is second-to-none in the class.
Oh, and he just may be the best athlete in the class, too, regularly handing out posters to poor defenders daring to jump with him in the lane. When it comes to scoring, it's hard to poke holes in Sharpe's game. He's a complete player on that front.
Working to become even more
Sharpe's AAU coach, Dwayne Washington of UPLAY-Canada, previously told KSR that ball handling was a key point of emphasis leading up to his time in college. The goal is to grow as a playmaker and primary handler in the same way Jamal Murray did in the NBA, giving him the ability to play all three positions on the perimeter. The scoring is there, now it's about adding to his toolbox.
As a defender, he's instinctual and has the length to make plays in the passing lanes. He also has the athleticism to pin shots on the backboard in transition and make contact on shots in the mid-range and on the perimeter.
Motor has been a minor issue at times, but never a long-term concern. He proved that to be the case by taking his game to a whole new level at Peach Jam against the best competition in grassroots basketball, separating himself from the top players in the country.
Calipari found and offered Sharpe when he was a fringe top-100 prospect last winter. This is a scouting win just as much as it is a recruiting one.
Kentucky's backcourt is nearly finalized
First it was Clark, now it's Sharpe. Kentucky has two top-15 guard prospects locked in for 2022, a terrific start to the class. And they're not done there.
Top-ten prospect Cason Wallace received an offer from Kentucky after a terrific performance at Peach Jam, with the Wildcats trending ever since. After hosting the five-star guard for an official visit on August 26, UK quickly emerged as the heavy favorite to land his commitment during the early signing period.
Four Crystal Ball picks and three FutureCast predictions, all in favor of the Wildcats. A tentative commitment date is scheduled for November 7, but there's buzz he could come off the board even sooner than that.
Could Kentucky sign three top-15 guard prospects in the early signing period? That's looking to be the case. And should that come to fruition, the 2022-23 backcourt could be complete before Thanksgiving.
What about the rest of the class?
UK has zeroed in on Clark, Sharpe and Wallace in the backcourt, but what about the frontcourt? Top-ten prospect Chris Livingston has emerged as a serious option, with top-three prospect Dereck Lively seen as the staff's top priority at the five.
Should the 6-7, 220-pound Livingston be comfortable splitting time between the three and four as a small-ball forward in Calipari's four-out offense – and that's expected to be the case – that's your fourth piece. He's expected to announce his commitment on his birthday, October 15, but there's talk that could come even sooner.
Kentucky has picked up three Crystal Ball picks and two FutureCast predictions in the last week alone, including four in the last three days. Momentum is clearly shifting in UK's direction both publicly and behind the scenes.
At the five, Lively is Kentucky's other big fish and anticipated final piece of the class. A 7-foot-2 shot-blocking specialist with elite athleticism and range out to the 3-point line, Lively shot up the rankings this summer and quickly emerged as UK's top priority in the frontcourt. His decision is expected to drag out a bit longer, but Kentucky would be able to push all its chips in for the top-three prospect if they sign Clark, Sharpe, Wallace and Livingston in the early signing period.
If things fall through with Lively, five-star center Adem Bona is a strong backup option, and a gettable one, at that. UK remains in talks with the 6-foot-10 center out of Turkey, with a visit still in the works.
Needless to say, options are there for Kentucky to round out the class.
The post What Shaedon Sharpe's commitment means for Kentucky appeared first on On3.