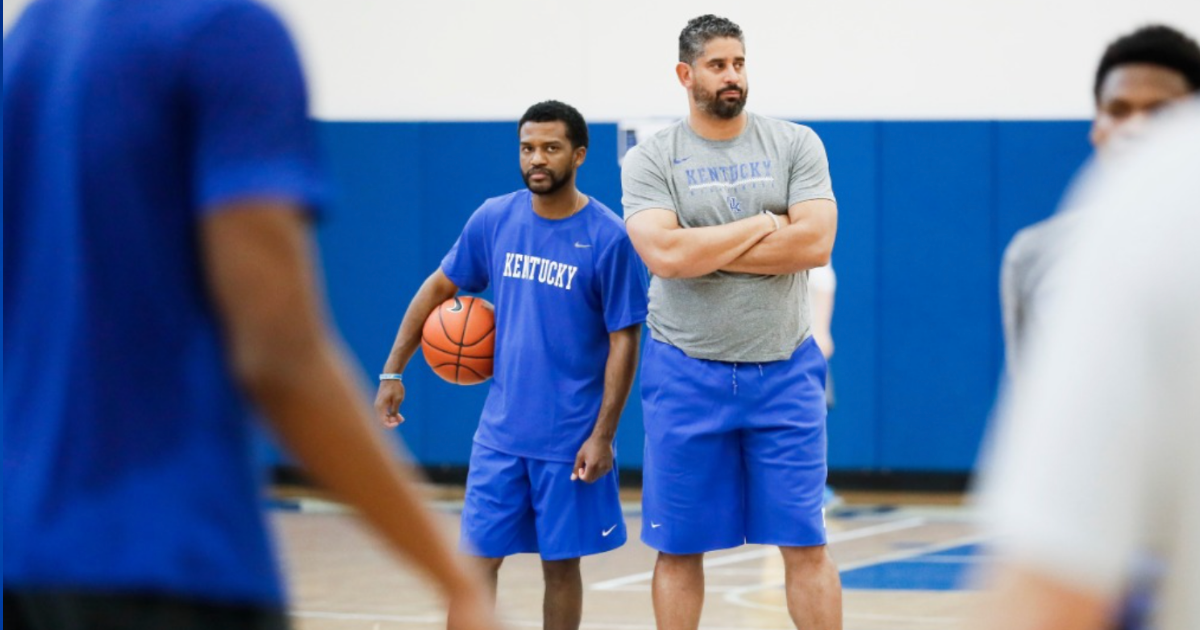 The floodgates have opened. As of Thursday, college basketball coaches are officially allowed to make in-person visits to various high school recruits across the country, and the Kentucky staff wasted no time making their presence felt in front of the nation's best high schoolers.
Let's jump right into the prospects that the staff has visited on Thursday along with the ones expecting visits in the coming days.
Class of 2022 in-person visits
Skyy Clark 4-star PG (COMMITTED)
As our own Jack Pilgrim recently reported, Kentucky will make TWO in-person visits to see its first class of 2022 commit, Skyy Clark.
Assistant coach Jai Lucas will get things rolling with a trip to Montverde Academy on Thursday, followed by the Clark family hosting head coach John Calipari for an in-home visit on Sunday.
Dereck Lively II – 5-star C
Arguably the best player in his class behind recent Kentucky commit Shaedon Sharpe, Dereck Lively II is about as close to being a basketball "unicorn" as you can get.
Kentucky will be the first to visit Lively on Thursday, followed by Penn State later in the day. Michigan will be in Friday, followed by Duke on Saturday.
Cason Wallace – 5-star CG
Trending heavily towards Kentucky, Cason Wallace would make for a perfect trio backcourt alongside Sharpe and Clark. His announcement is expected in early November but could come before that.
UK assistant coach Jai Lucas was in to see the top 10 prospect out of Richardson, TX, on Thursday morning. Lucas posted a photo from Wallace's high school gym on social media.
Adem Bona – 5-star C
Along with Kentucky, both Baylor and UCLA were in on Thursday to see Adem Bona, according to 247 Sports' Travis Branham. UK is going after both Bona and Lively right now, although it's uncertain if they would be able to secure both (or if the two would even be willing to play together).
Chris Livingston – 5-star SF
Kentucky is applying the full-court pressure on Chris Livingston, who has become a need-to-know name over the last several days. Jack Pilgrim reported earlier in the day that the coaching staff trio of head coach John Calipari, along with assistant coaches Orlando Antigua and Chin Coleman, are all in Ohio to visit Livingston.
Class of 2023 in-person visits
Reed Sheppard – 5-star CG
Easily the hottest name in Kentucky recruiting, Reed Sheppard received an in-person visit from Louisville on Thursday with Kentucky and Virginia expected to do the same in the near future. Sheppard's head coach at North Laurel, Nate Valentine, confirmed the news with KSR.
DJ Wagner – 5-star PG
Coach Calipari made sure to make a pitstop in Camden, NJ, to visit the unquestioned top player from the class of 2023, D.J. Wagner.
Wagner has felt like a Kentucky lock for a while now, and Cal going to see him on the first day he possibly can is a good sign of where the 'Cats stand. It's a matter of when not if Wagner commits to UK.
Marquis "Mookie" Cook – 5-star SF
A relatively new name on the block is Mookie Cook, who plays for the same high school that TyTy Washington came from, Arizona Compass Prep. Kentucky was one of several schools that visited Compass Prep on Thursday, along with the likes of Michigan, UCLA, Kansas, and plenty others.
Aaron Bradshaw – 5-star C
Teammates with D.J. Wagner at Camden High School, Aaron Bradshaw received in-person visits from Kentucky, UConn, and Temple on Thursday, according to Andrew Slater. Up until this point, there had been very little contact between Bradshaw and the UK coaching staff, but the connection with Wagner should help that out moving forward.
Brandon Gardner – 4-star PF
Hailing from the same high school as John Wall (Word of God Christian Academy), Brandon Gardner is expected to see Chin Coleman around his area sometime this week, according to Jacob Polacheck of ZAGSBLOG. Georgetown, Maryland, Florida, LSU, Auburn, and Clemson will also stop in.
The post Who Kentucky MBB coaches are visiting on recruiting trail appeared first on On3.